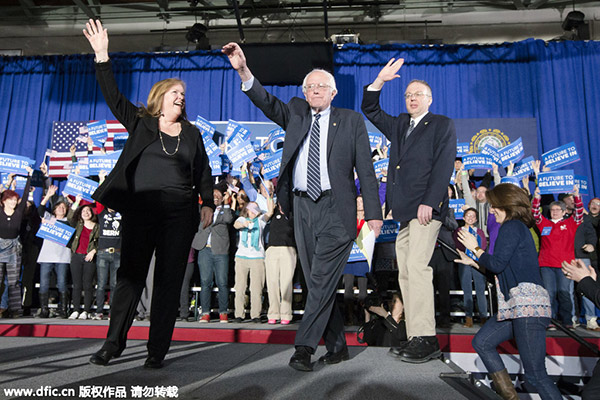 Democratic presidential candidate Sen. Bernie Sanders, I-Vt., center, and his wife Jane, left, wave to the crowd as they take the stage during a primary night watch party at Concord High School, Tuesday, Feb 9, 2016, in Concord, N.H. [Photo/IC]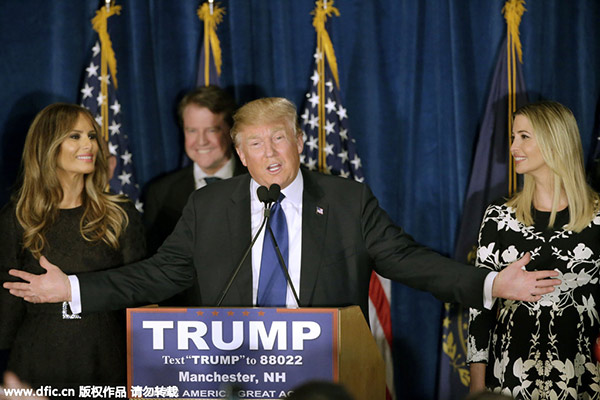 Republican presidential candidate, businessman Donald Trump speaks to supporters during a primary night rally, Tuesday, Feb. 9, 2016, in Manchester, N.H. At his side are his wife Melania Trump, left, and daughter Ivanka Trump, right. [Photo/IC]
MANCHESTER, the United States -- Republican Donald Trump and Democrat Bernie Sanders on Tuesday handily won New Hampshire primaries, according to multiple US TV networks.
Shortly after all polls closed at 8 pm local time, Trump, the billionaire developer from New York who upended the party establishment in this presidential election cycle, was declared winner of the Republican field by almost all major US TV networks.
As the voting results continued to trickle in, the battle for the second place continued among the crowded establishment lane, including Florida Senator Marco Rubio, former Florida Governor Jeb Bush, Ohio Governor John Kasich and New Jersey Governor Chris Christie.
On the Democratic side, Sanders was also declared winner immediately after all polls ended. Clinton had already conceded the race, according to a statement released by her campaign.
In an attempt to downplay the significance of the defeat in the New Hampshire primary, the statement said the nomination "will very likely be won in March, not February," adding that Clinton was well positioned to build a "strong- potentially insurmountable-delegate lead next month."