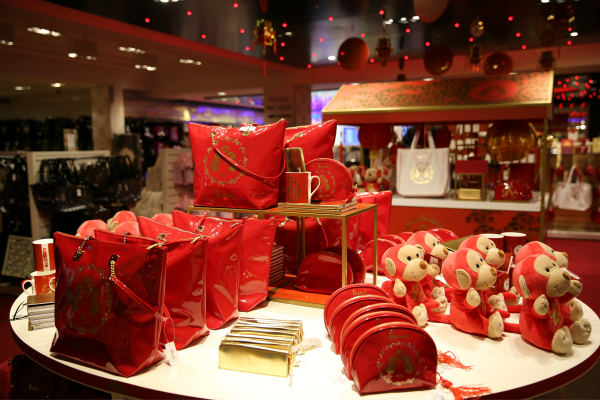 Items designed for Chinese New Year on display in Harrods Department Store in London, UK, Feb 2, 2016. [Photo by Liu Jing/chinadaily.com.cn]
As many Chinese are returning home for the Chinese lunar new year, or Spring Festival celebration, it is also being gradually accepted by Europeans: schools are starting to teach that side of Chinese culture to children, adults attend special events, and even businesses take the opportunity to use the festival for promotion.
In the European capitals of London, Brussels and Paris, the atmosphere is easy to feel as the year of Monkey approaches. Shopping centers are trying their best to broaden their appeal to Chinese consumers with offers, discounts and presentations featuring Chinese elements.
The high-end department store Harrods in London has partnered with Hong Kong-based toy-art brand Papinee to create an exclusive Chinese New Year toy, the Harrods Happy Monkey.
The soft toy, available from January and displayed in the department's windows, is decorated with symbols representing happiness, luck and positive energy in shape of motifs such as hearts, four-leaf clovers and horse shoes, according to the department.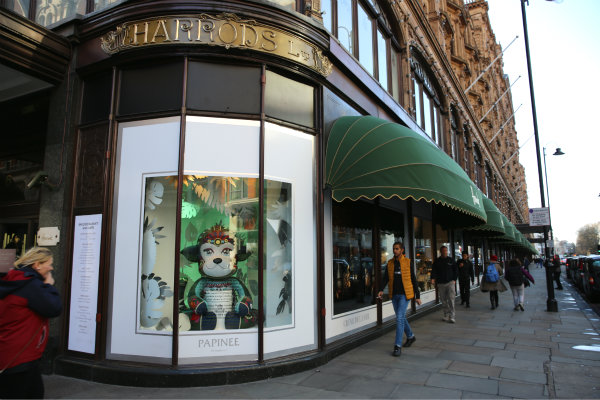 The Harrods Happy Monkey is displayed in the window of Harrods Department Store in London, UK, Feb 2, 2016. [Photo by Liu Jing/chinadaily.com.cn]
The department store's souvenir shop also offers various items designed for the year of monkey, ranging from purses and pens to key rings and cups. A traditional Chinese-style decoration door is placed for customers to offer their wish cards for the coming festival.
In Chinese folklore the monkey represent cleverness and agility.
Kyle, a manager of the department, who didn't give his full name, said that the store has celebrated the traditional Chinese festival for many years. "We have a lot of Chinese tourists here and they will be very interested to see this," he said.
Sunkiran Boyal, a shopping assistant for cosmetics in Harrods, said Chinese customers are their most loyal clients and her brand has prepared special offers to thank them. The Estee Lauder brand has rolled out a new bottle design with golden-colored main body and a red monkey pendant.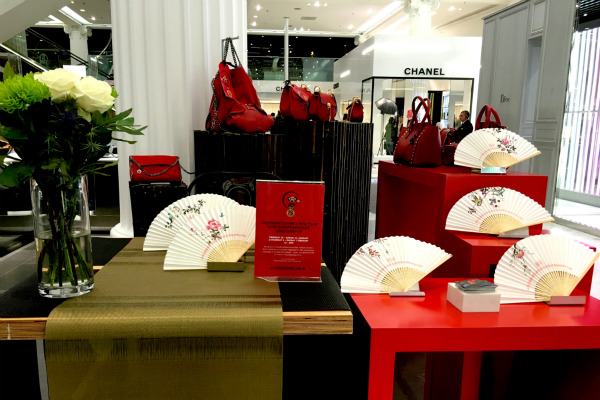 Hand-held fans designed by artist Sun Yinjie displayed in Selfridges store in London, UK. [Photo provided to chinadaily.com.cn]
"Chinese customers really like the new design and they can get the product with the new bottle for no extra charge," she said. "We also give them samples wrapped in red envelopes to say thank you and celebrate the festival with them."
Other department stores have followed suit. Selfridge department store offers its customers a complimentary hand fan, which can be decorated by an expert calligrapher with a personal message or a bespoke design when spending 100 pounds or more on accessories.
Sun Yinjie, a Chinese painter invited by Selfridge to display his works in the store, said this is his second time to be invited. He has also been asked to participate in another celebration by BBC.
"I have been in UK for more than eight years and I'm glad to see more activities about Chinese New Year in the country. This is apparently a result of China's growing economic and political status," he said.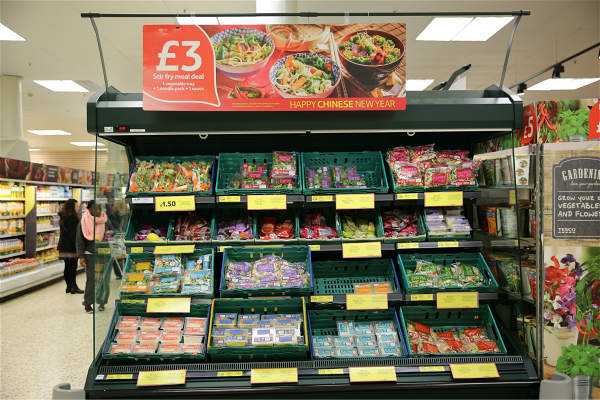 Chinese food on sale at a Tesco supermarket in London, UK, Feb 2, 2016. [Photo by Liu Jing/chinadaily.com.cn]
Many retailers are also trying to tap the market in China. The Cambridge Satchel Company, for example, is offering buyers a special discount and free embossing of a monkey symbol on all the red bags they buy in the brand's online store.
Moreover, many local supermarkets have put more Chinese food on sale to celebrate the festival and Chinese recipes, including those for spring rolls and dumplings, are offered on their websites for those who prefer to cook themselves a New Year feast at home.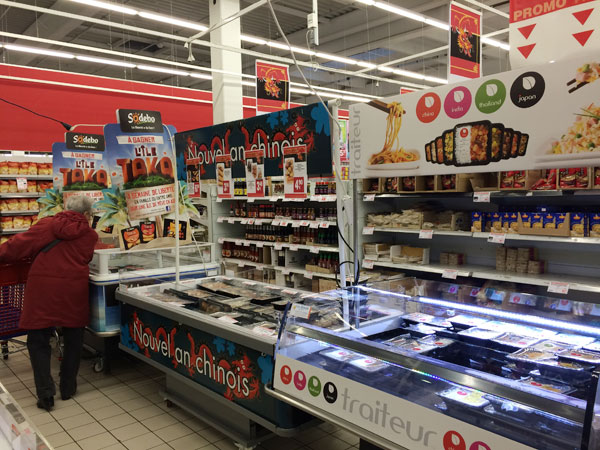 Belgian supermarket Cora is having a special promotion to celebrate Chinese New Year between 25th January and 6th of February, offering a variety of Asian food at low prices. [Photo by Gao Shuang/chinadaily.com.cn]
In Brussels, Belgian supermarket Cora started a special promotion to celebrate Chinese New Year last Monday, 25th January. The promotion will continue until Saturday, 6th of February.
The promotion consists of discount for Asian food that is particularly aimed at celebrating Chinese New Year such as spring rolls, dumplings and prawn crackers, as well as discounts for ingredients such as soya sauce, noodles and pots. In addition, exotic decorations are also part of the sales.
Irsuto Francesco, manager of food section in Cora , said the store has been doing special promotion for Chinese New Year for over 15 years since Belgians love Chinese food and the promotion has proved successful at attracting more customers.
"We received a lot of positive feedback every year and we hope that we could enlarge our promotion next year, in order to provide wider choices for our customers who would like to try something authentic during Chinese New Year," added Francesco.
Walter Bontez, a 69-year-old retiree, knows that Chinese New Year is the most important event for Chinese people and food plays an important role.
"I love Chinese food. I eat Chinese food regularly and sometimes I even prepare it by myself. Every year I come to Cora for this special promotion. My favorite Chinese dish is fried noodle," said Bontez.
The promotion is also triggering the interest of Chinese living in Brussels. Yang Chun, from the Chinese embassy, said that at the promotion she finds more Asian goods than at other times and the low price is also attractive.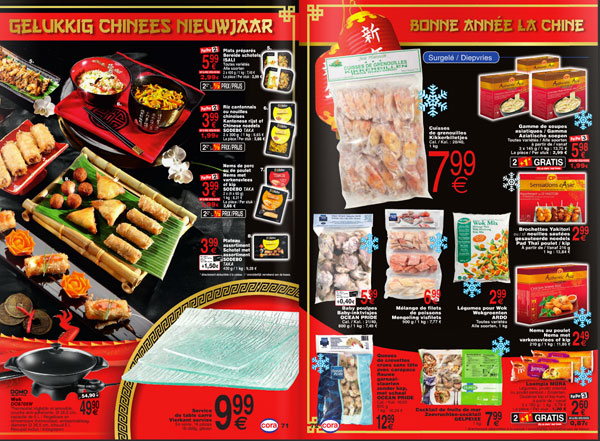 Promotion brochure of Cora for Chinese New Year. [Photo by Gao Shuang/chinadaily.com.cn]
In Paris, the French capital' renowned department stores have already prepared to welcome Chinese shoppers during spring festivals with red-colored products, Chinese posters, Mandarin-speaking staff and VIP services.
At the Champs-Elysees, home to some of the world's most famous luxury labels, Chinese New Year elements already can be found one week ahead of the festival. For example, in the window of luxury brand Montblanc, a red Chinese monkey can be seen at the window background with customized Monkey Year pens.
One of Paris most popular attractions, La Vallee Village, an outlet mall specializing in the sale of discounted designer brands, has already decorated its village full of Chinese new year symbols. Red flowers and many signs in Chinese saying "Happy Chinese New Year" can be seen in the shopping village everywhere.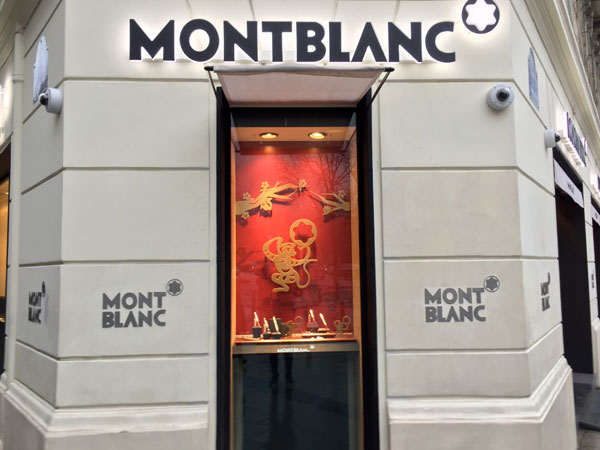 In the window of luxury brand Montblanc at the Champs-Elysees, a red Chinese monkey can be seen in a display featuring customized Monkey Year pens. [Photo by Tuo Yannan/chinadaily.com.cn]
Marisa Minelli, senior tourism manager at La Vallee, says recent years the village celebrates the Chinese New Year with different decorations, and offers traditional Chinese red envelopes containing coupons for customers.
This year is also the 12th year of the French post office, La Poste, issuing Chinese New Year stamps. Started from Jan 29, French people can buy money stamps from post offices.
Many districts in Paris will celebrate the Chinese New Year, for example, from Feb 5 to 12, at 13th district, which has a large Asian population, there are Chinese New Year celebration events every day. On the first day, Feb 5, in front of the district city hall, at Careau du Temple, there will be a dragon dance and there will also be Chinese martial arts classes or Chinese culture seminars.
More than 300 French people will also attend an event held by the Paris China Culture Center on Feb 6, when there will be a big celebration with traditional Chinese calligraphy writing,mah-jong, Chinese opera and Chinese food tasting.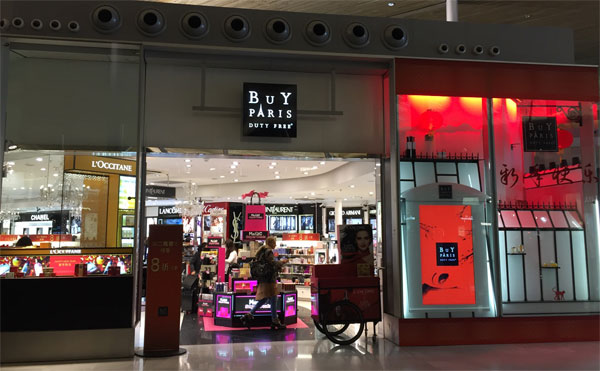 Chinese characters read Happy Chinese New Year (L) on the window of a duty free shop at Charles de Gaulle Airport in Paris. [Photo by Tuo Yannan/chinadaily.com.cn]