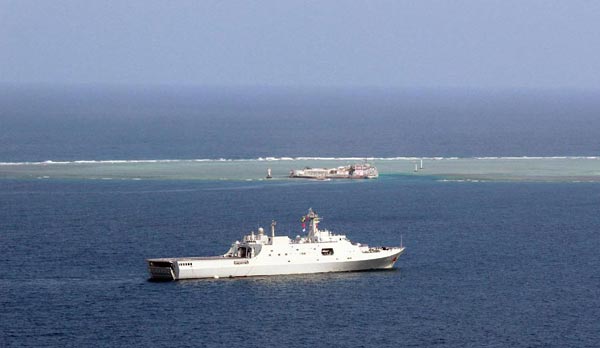 China firmly upholds her sovereignty and maritime rights and interests in the South China Sea. [Photo/Xinhua]
An incursion by a US warship in Chinese territorial waters on Saturday is the latest attempt by Washington to return tension to the South China Sea and encourage more regional stakeholders to challenge China, according to observers.
They made the comments after the USS Curtis Wilbur, a guided missile destroyer, intruded into the territorial waters of China's Xisha Islands.
Zhang Junshe, a senior researcher at the PLA Naval Military Studies Research Institute, said the South China Sea situation had been eased for some time before the latest outspoken remarks and intrusion by Washington. One of the US' goals is to bring tension back to the region, Zhang said.
Renewing the tension will also showcase support for countries such as the Philippines and Vietnam, encouraging them to take more provocative actions against China on the South China Sea, Zhang said.
"In the long run, Washington still defines the South China Sea issue as a tool to contain China,"Zhang added.
Liang Fang, a professor of naval studies at the PLA National Defense University, said Washington aims to test Beijing's bottom line on the sea and is also attempting to defy China's sovereignty over the waters.
China should stick to its construction plan for the South China Sea and take further countermeasures in case of provocation, Liang said.
In recent years, the United States has sent warships and aircraft into Chinese waters and airspace a number of times, leading to brushes between the two militaries.
The People's Liberation Army warned the vessel on Saturday and succeeded in driving it away, Ministry of National Defense spokesman Yang Yujun said in a statement on Saturday night.