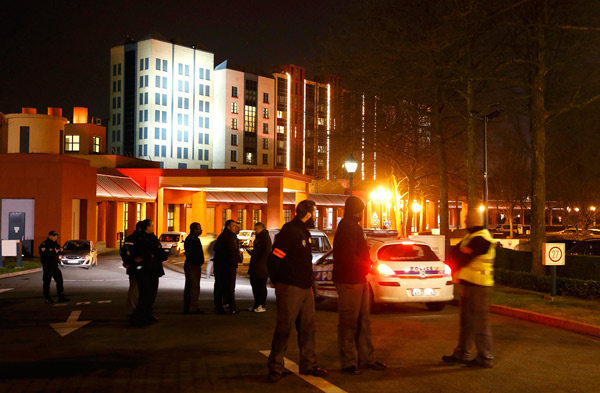 French police officers and security staff secure the area next to the New York hotel located next to the main entrance of the Disneyland Paris Resort run by Euro Disney S.C.A in Marne-la-Vallee, near Paris, France, January 28, 2016. FFrench police arrested a man carrying two handguns at the Disneyland Paris amusement park outside Paris on Thursday, an Interior Ministry official said. [Photo/Agencies]
PARIS - A man was arrested carrying two handguns and a copy of the Quran at the Disneyland Paris amusement park outside Paris on Thursday, French officials said.
France remains in a state of emergency after Islamist gunmen and suicide bombers killed 130 people in a series of jihadist attacks in and near Paris in November last year.
A police source said the 28-year-old man of European origin arrested at Disneyland had been carrying the guns, one of them an automatic handgun, concealed in a bag with the religious text.
The Interior Ministry said police were also searching for a woman who may have been with the man, correcting a previous statement that she had been arrested.
"Firearms were discovered in the bags of a man as he went through the metal detector during a routine security check at one of our hotels," Disneyland Paris spokesman Francois Banon said.
Euro Disney, whose main shareholder is US-based Walt Disney Co, runs the amusement park.
The man was unknown to police before the incident at the park's New York Hotel, the source said.