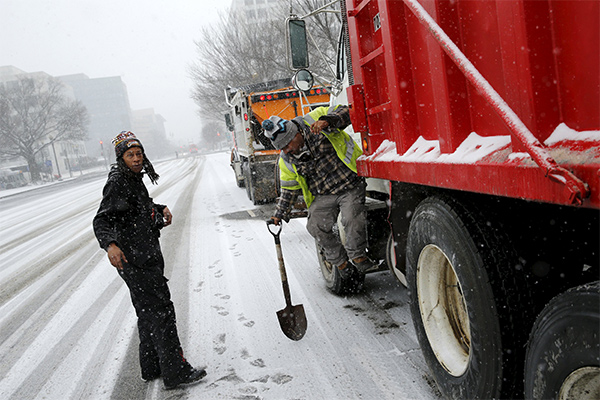 Crew members work on salt trucks as the snow begins to fall in Washington January 22, 2016. The leading edge of a monster snowstorm arrived on Friday afternoon in Washington, D.C., threatening to dump as many as 30 inches (76 cm) of powder on parts of the Middle Atlantic region and bring record accumulations to the US capital. [Photo/Agencies]
Thick snow covered the Washington D.C. area on Saturday as a potentially record-breaking blizzard paralyzed road, rail and airline travel on the US East Coast from North Carolina to New York.
More than 85 million people in at least 20 states were covered by a winter weather warning, watch or advisory, the Weather Channel said, and many stores were left with bare shelves as residents stocked up on food, water and wine, preparing to spend the weekend indoors.
At least six people were killed in car crashes due to icy roads in North Carolina, Kentucky and Tennessee.
The governors of several states, including New Jersey, Pennsylvania, Maryland, Virginia, North Carolina and Georgia, as well as the mayor of Washington, declared states of emergency. Officials warned people not to drive.
The Washington and Baltimore metro areas were expected to bear the brunt of the storm. Two to three feet of snow are likely, accompanied by winds of up to 50 miles per hour (80 km per hour), before the storm winds down on Saturday afternoon, according to the National Weather Service (NWS).
Steady snow was falling on southeastern Pennsylvania, including Philadelphia, early on Saturday. The storm is forecast to head north toward New York City later in the day.