| | |
| --- | --- |
| Video / Chinadaily.com.cn |   |
|   |   |
On the fifth day, they met.
Molly Sano traveled from the United States to China to find her adopted son's biological parents, hoping her public pleas for help would allow her to reunite the boy with his family before an incurable genetic disorder robbed him of his sight.
It worked. News about Sano's trek to Ningbo, Zhejiang province, on behalf of 2-year-old Bennett, reached the ears of Shi Boning, director of the Hearing Diagnosing and Screening Center of the Affiliated Hospital of Ningbo University.
He searched the center's records until he found a case similar to the boy's and reached out to the child's father, surprised to find the phone number in the case file was still active. Five days after Sano landed in Ningbo, the families embraced.
"Finding Bennett's bio-parents, I've helped my son find his roots," Sano said. "I have no regrets about this trip to China."
Sano adopted the boy in 2014. Born deaf in Ningbo, Bennett was diagnosed in December with a rare disorder and is expected to gradually go blind. His mother wanted him to see his family before he lost his vision and feared waiting would make it more difficult to find them.
When they met, Bennett's biological mother, a migrant worker in her 30s, immediately burst into tears and tried to explain why she abandoned her son. She repeatedly said: "I really had no other choice."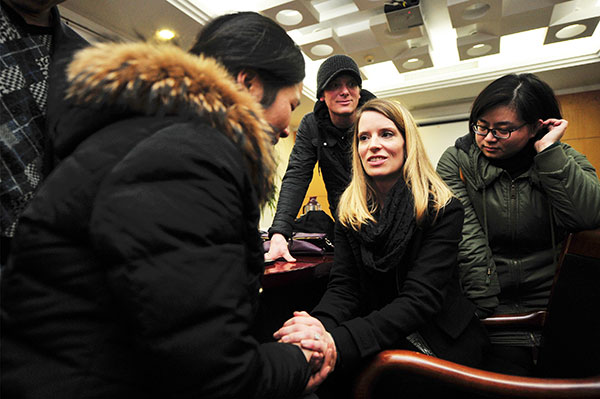 Molly Sano meets Bennett's biological mother in Ningbo, Zhejiang province. CUI YIN/CHINA DAILY
Bennett's Chinese parents were eager to tell the story of his birth and his family. Besides an older brother, who also is deaf, which was mentioned in a note left by Bennett's side when he was found, he also has a sister and a younger brother born with normal hearing. Bennett was born on April 1, 2012. His parents expected him to take care of his older brother in the future, but their hopes drained away when they found out that he could not hear either.
"We worked in a factory where the monthly payment was only about 1,000 yuan ($152)," Bennett's biological father said.
On May 18, 2012, his parents made the decision to give him up and Bennett was placed at the south gate of a luxurious residential area. His father didn't leave until he saw a security guard collect the boy and take him safely to the police station.
Later transferred to the Enmei Child Welfare Association in Ningbo, Bennett remained there until Sano came for him and took him to her home in Seattle.
With photos, Sano told the couple about the boy's daily life in a family of four, where he attends school and is growing up like a normal child. The two mothers added each other on WeChat, a popular messaging app, and Sano offered to send photos of Bennett every year. Flying back to Seattle on Wednesday, Sano said she will bring greetings from Bennett's biological parents to the city.