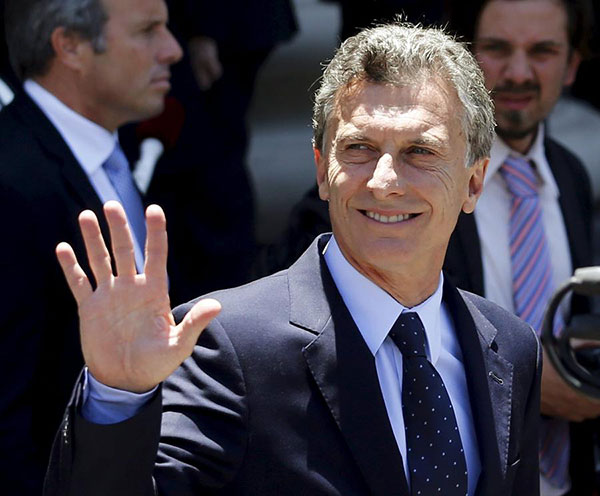 Argentina's President Mauricio Macri waves as he leaves Buenos Aires' cathedral December 11, 2015.  [Photo/Agencies]
BUENOS AIRES - Argentina's President Mauricio Macri will travel on Tuesday to the Swiss city of Davos to participate in the World Economic Forum (WEF), the country's Minister of Foreign Affairs Susana Malcorra said.
During the stay, Macri will meet with British Prime Minister David Cameron to discuss the countries' rival claims over the Malvinas Islands (called Falklands in the UK), Malcorra said in a radio interview.
According to Malcorra, the meeting will last 30 minutes on Jan 21. There is broad speculation that Macri will seek to reduce tensions over the island.
However, on Jan 3, the Argentinean embassy in the UK issued a statement saying that the new administration was "unanimous in its rejection of the British military presence in the South Atlantic."
Cameron had clashed with Argentina's former minister of foreign affairs, Hector Timerman, saying that Argentina must stop threatening oil and gas companies exploring waters around the Falkland Islands.
Meanwhile, Macri will give two speeches in Davos, one to a group of executives and investors, and the other to the international business press.
He will also meet with US Vice President Joe Biden, US Secretary of State John Kerry, French Prime Minister Manuel Valls, Israeli President Benjamin Netanyahu, and Mexican President Enrique Pena Nieto, among others.