EXTREME POVERTY FALLING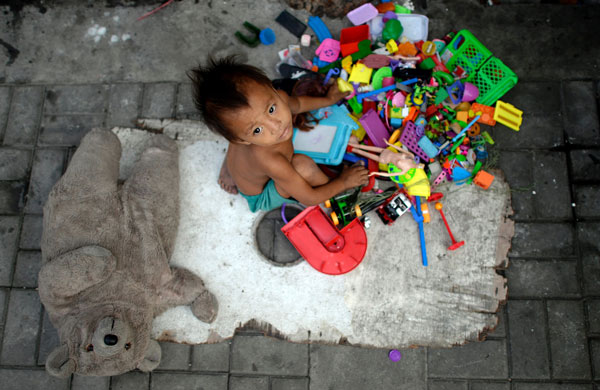 A homeless boy plays with different toys collected by his parents that picks used plastic soda bottles to sell at junk shops in Manila on Jan 13, 2016. [Photo/CFP]
The number of people living in extreme poverty has fallen by 650 million since 1981, even though the global population grew by 2 billion in that time, according to the Organisation for Economic Co-operation and Development (OECD).
Much of this change has been because of the rise of China, which alone accounted for half a billion people moving out of extreme poverty.
Most of the world's poorest no longer live in the poorest countries, but in middle-income countries like India, the OECD said in a recent report.
The inequalities are partly to do with differences in income, especially between urban and rural areas, but also differences in access to healthcare, education and jobs, the OECD said.
"The figures suggest that the biggest causes of poverty are ... political, economic and social marginalisation of particular groups in countries that are otherwise doing quite well," development economist Owen Barder is quoted as saying in the OECD report.
Barder is director for Europe at the Center for Global Development.
Although taxes and transfers help reduce income inequality in developed countries, these systems are less robust in many developing countries, according to the OECD.
An exception is Brazil, which makes payments to more than 13.3 million poor families on condition they enrol children in school and take part in health programmes.
"That has helped to reduce rates of both child poverty as well as inequality," the OECD report said.