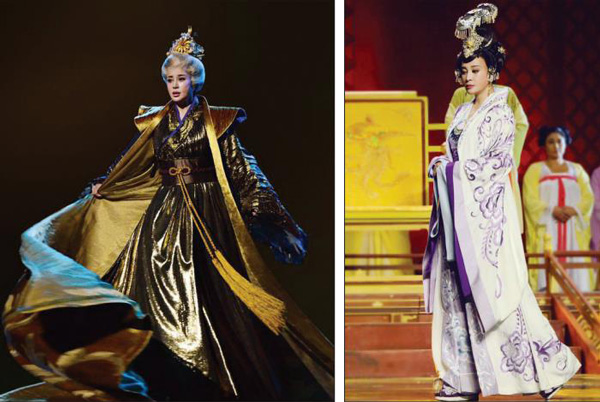 Chinese actress Liu Xiaoqing plays the title character in the play Wu Zetian, scheduled to be performed from February to March in six US cities. Provided to China Daily
The story of Wu Zetian, the only female emperor of China during the Tang Dynasty, will be told through a play in the US next month.
The two-hour play, Wu Zetian, was adapted with a focus on the important moments in Wu's life, including her love story and her rise to power, to tell the tale of the legendary figure's controversial life, according to Chi Tai, president of Chinese Ticket Box, a Bay Area-based entertainment promotion company which is sponsoring the play in the US.
The play is produced by Tianjin People's Art Theater and acclaimed Chinese actress Liu Xiaoqing, 60, will play the title character. She has played the role of Wu Zetian in a popular TV drama of the same name in 1995.
Following the world debut in Beijing in December, the play will be performed in six US cities, including Seattle, San Francisco, San Jose, Los Angeles, Chicago and New York.
An estimated audience of 4,300 is expected to see the play in the Bay Area, said Tai.
Aside from the play, the Chinese Ticket Box also invited China Oriental Performing Arts Group to perform in the US in April.
The troupe will present National Beauty, a dance poem based on white-and-blue porcelain, the tea ceremony, bamboo, Chinese calligraphy and traditional painting.
The nature of National Beauty derives from the concept of freehand and realism in painting which reflects the elegance of poetry, calligraphy, rites and music, said Chi.
Like "a colorful flowing poem and a moving painting", the dance will be easily accessible to Western audiences, he said.
It will be the first time for the troupe to embark on a tour performance to the US since 2006.
liazhu@chinadailyusa.com