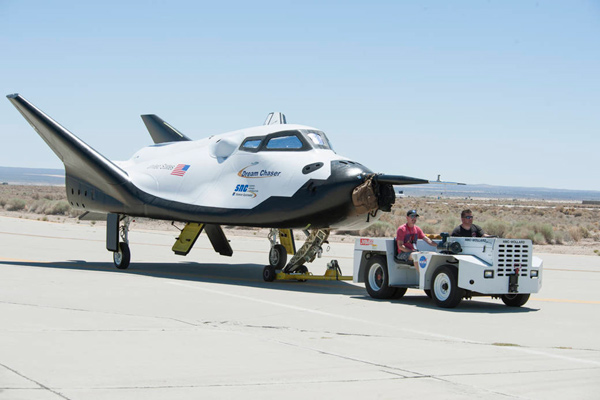 Sierra Nevada Corporation engineers and technicians prepare the firm's Dream Chaser engineering test vehicle for tow tests on a taxiway at NASA's Dryden Flight Research Center in Palmdale, California on June 27, 2013. [Photo/Agencies]
WASHINGTON - US space agency NASA announced Thursday that it has awarded the second round of commercial contracts to resupply the International Space Station (ISS) to three private spaceflight companies Orbital ATK, Sierra Nevada and SpaceX.
Every one of these companies gets at least six flights to deliver cargo to the space station, which will begin in late 2019 and extend through 2024, NASA said.
Orbital ATK of Virginia and SpaceX of California, the winners of the first round of NASA's Commercial Resupply Services contracts, have already used their own space capsules to send supplies several times to the orbiting lab about 400 kilometers above Earth.
The only new face is Colorado-based Sierra Nevada, which has been developing a mini-shuttle called Dream Chaser that is designed to launch vertically on a rocket and land horizontally on conventional runways.
NASA said a third provider assures access to the space station after two launch accidents by Orbital ATK and SpaceX, in late 2014 and this past summer, respectively.
"Awarding multiple contracts provides more options and reduces risk through a variety of launch options and mission types, providing the ISS program a robust portfolio of cargo services that will be necessary to maximize the utility of the station," NASA said in a statement.
While the maximum potential value of all contracts is about $14 billion, NASA said it will order missions, as needed, and the total prices paid under the contract will depend on which mission types are ordered.
"We plan to order services based on our current estimates of station needs, which provides NASA important flexibility to maximize the use of the space station," said Kirk Shireman, NASA's ISS Program manager.
"We look forward to beginning work with these new contractors to understand the details of the services that they have proposed and understand the details of how these services will benefit ISS."
Since the Obama administration outsourced space station resupply missions, commercial carriers have transported 35,000 of pounds of cargo there, NASA Administrator Charles Bolden wrote in a blog post Thursday.
Besides, over 1,000 US companies are now involved in NASA's commercial space initiatives and about 80 percent of the agency's activities are carried out by its partners in industry and at America's academic institutions, he said.
"Despite critics who may have said this was a pipe dream just five short years ago, we continue to transform the way NASA does business and as a result, today we're able to mark another significant milestone that will carry President (Barack) Obama's (commercial space) vision further into the future," he wrote.