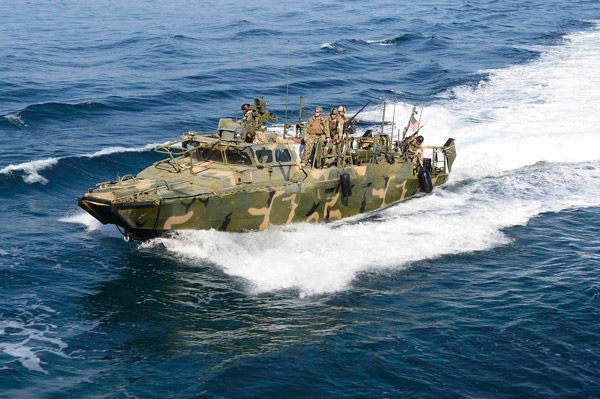 A riverine patrol boat from Costal Riverine Squadron 2 escorts the guided-missile cruiser USS Bunker Hill (CG 52) while in the Arabia Gulf in this Nov 15, 2014 handout photo, provided by the US Navy, Jan 12, 2016. Ten sailors aboard two US Navy riverine patrol boats were seized by Iran in the Gulf on Tuesday, and Tehran told the United State the crew members would be promptly returned, according to US Officials. [Photo/Agencies]
TEHRAN/WASHINGTON - Iranian troops have seized two US Navy boats with 10 marines on board after the boats entered Iranian territorial waters in the Gulf, Iran's Revolutionary Guards said Wednesday.
"At 16:30 (1300 GMT) Tuesday, two American combat boats carrying 10 armed marines who had entered Iranian territory were seized by the combat units of the Guards naval force and moved to Farsi island," the Revolutionary Guards said in a statement.
The statement added that the US marines are "in good health and being kept in a proper location."
"Passengers of the American boats, including nine men and one woman, (are being treated) with the Islamic conduct customary of the soldiers of the Guards naval forces," it said.
According to the statement, two aircraft carriers -- the USS Harry S. Truman and French Charles de Gaulle -- were both in international waters near Farsi island when the US boats were captured.
Earlier in the day, Iran's semi-official Fars news agency reported that the two boats were captured by naval forces of Iran's Islamic Revolutionary Guard Corps near Farsi island, 2 km inside Iranian territorial waters.