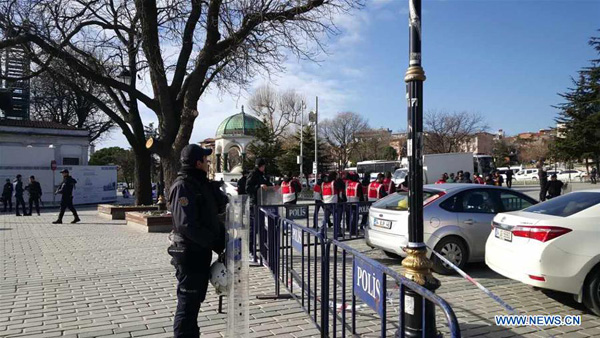 Police cordon off Sultanahmet Square after an explosion here in Istanbul, Turkey, January 12, 2016. [Photo/Xinhua]
ISTANBUL - At least 10 people have been killed and 15 others wounded in an explosion that hit Istanbul's historic Sultanahmet Square on Tuesday, which Turkish President Recep Tayyip Erdogan has blamed on a Syrian suicide bomber.
The blast, so huge that it could be heard in neighboring districts, took place at around 10:15 local time (0815 GMT) at the square which a renowned tourist hub, killing 10 people and wounding 15 others, according to a statement by Istanbul governor's office.
"I was here when the explosion happened ... I heard a very big sound of explosion. The earth below my feet was shaken. Then I felt a burnt smell. Everyone was running upward toward the incident place. Within five minutes the area was full of police and ambulances," an eyewitness told Xinhua.
Addressing a gathering of ambassadors in Ankara, President Erdogan referred to a Syrian suicide bomber as the culprit, noting there were foreign citizens among the dead.
"This incident once again has shown us that we have to stay united against terrorism," he added.
Turkish Prime Minister Ahmet Davutoglu held an emergency meeting in Ankara with the interior minister and security chiefs after the bombing.
Turkey has suffered from a series of deadly attacks. In July 2015, a bombing attack in the border town of Suruc in southeastern Turkey left 34 pro-Kurdish and left-wing activists killed. In October, twin suicide bombings hit the capital city Ankara, claiming a total of 103 lives. Both were blamed on the Islamic State (IS) militant group.
Meanwhile, Turkey is also cracking down on the home-grown Kurdistan Workers' Party (PKK) which is branded as a terrorist group by the United States and the European Union as well.
The Turkish military said Sunday that a total of 448 PKK militants had been killed in counter-terrorism operations in southeastern Turkey, where tensions have been running high, since mid-December.
On Jan 6, a woman carried out a suicide bombing attack on a police station in Istanbul's Sultanahmet, leaving an officer dead and another injured.