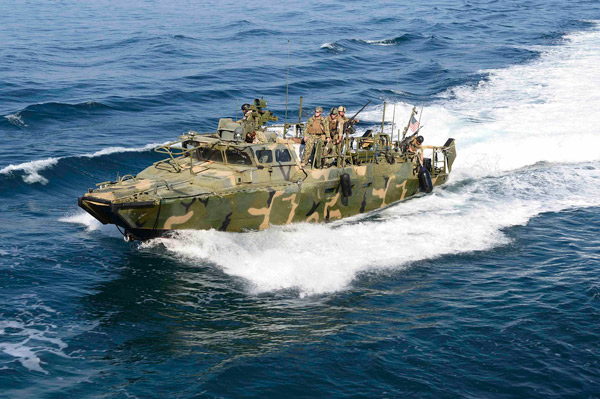 A riverine patrol boat from Costal Riverine Squadron 2 escorts the guided-missile cruiser USS Bunker Hill (CG 52) while in the Arabia Gulf in this Nov 15, 2014 handout photo, provided by the US Navy, Jan 12, 2016. Ten sailors aboard two US Navy riverine patrol boats were seized by Iran in the Gulf on Tuesday, and Tehran told the United State the crew members would be promptly returned, according to US Officials. [Photo/Agencies]
WASHINGTON - Ten US sailors were detained Tuesday on the Farsi island in the Gulf by Iran's military which seized two US Navy boats reportedly drifting into Iranian waters, US media reported.
It was unclear whether the American sailors who were aboard the small riverine boats had strayed into Iranian territorial waters before they were captured, the NBC News quoted senior Pentagon officials as saying.
The sailors, including nine men and one woman, were reportedly on a training mission moving between Kuwait and Bahrain around noon when their boat experienced "mechanical difficulty" and drifted into Iranian-claimed waters and were seized by Iranian Revolutionary Guard forces.
US Secretary of State John Kerry has been on the phone with Iranian officials in an attempt to gain the release of the American sailors.
One senior US official was quoted as saying that the Iranians understood that it was a mistake and had agreed to release the Americans in international waters within hours, the report added.
White House spokesman Josh Earnest told US media that the US was monitoring the situation and "it's not entirely clear what happened".
He added that the sailors were safe and were expected to be released by the Iranians without a long delay.
Pentagon spokesman Peter Cook said that the US military, after contact with Iran, had received assurances that the American crew and the boats would be "returned promptly".
The incident occurred at a time when the US is prepared to lift some of the sanctions on Iran as part of the implementation of a historic deal reached last July on Iranian nuclear program after prolonged diplomatic negotiations.
But new tensions flared up recently after the US slammed what they called Iran's "highly provocative" actions of firing unguided rockets last month near US Navy ships in the Gulf including the USS Harry Truman aircraft carrier.