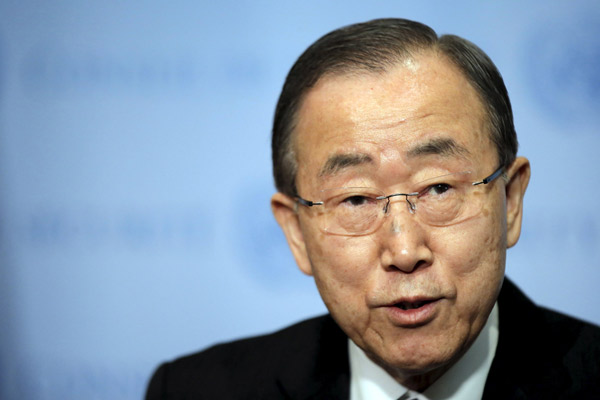 United Nations Secretary-General Ban Ki-moon speaks at UN headquarters in New York, Jan 6, 2016. [Photo/Agencies]
UNITED NATIONS - UN Secretary-General Ban Ki-moon on Sunday condemned the attack on a hospital supported by international medical group Medecins Sans Frontieres (MSF) in northern Yemen and called for accountability.
A rocket landed in an MSF-sponsored health center in Razeh area in northern Saada province on Sunday, killing at least four people and injured many others. It is unknown who was behind the attack.
Ban said any such intentional attack is considered "a serious violation" of the international humanitarian law, which explicitly protects hospitals and medical personnel, according to a statement from his spokesperson.
The attack is the latest of a series of attacks on health facilities in Yemen, following those on the MSF-supported Haydan Medical Hospital in Saada and a mobile health clinic in Taiz last year.
"The Secretary-General is extremely concerned about the increasingly limited access to essential health care services for Yemenis," and urged a prompt, effective, independent and impartial investigation to ensure accountability, the statement said.
Ban also reiterated his call on the warring parties in Yemen to immediately cease all hostilities and resolve differences through peaceful negotiations facilitated by his special envoy Ismail Ould Cheikh Ahmed.
Yemen has been mired in an all-out civil war since September 2014, when the Shiite Houthi group backed by forces loyal to former President Ali Abdullah Saleh invaded the capital Sanaa and drove President Abd Rabbu Mansour Hadi into exile. The war has killed nearly 6,000 people.
The warring forces held their latest talks in Switzerland in December, but failed to reach a political solution and only agreed to resume talks on Jan 14.