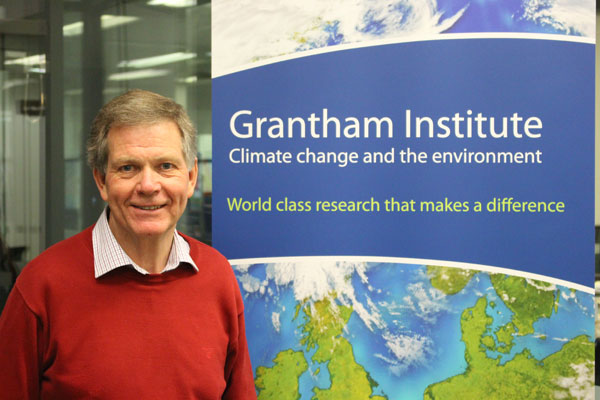 Neil Hirst, Senior Policy Fellow for Climate Change and the Environment at Grantham Institute, Imperial College London. Photo provided to China Daily
The Paris Conference that took place last December has provided a momentum for China to improve industrial mix and build low-carbon energy system so as to foster a new pattern of modernization featuring harmony between human and nature.
China pledges, at the Paris Conference, to reduce CO2 per unit of GDP by 60-65% over the 2005 level, and raise the share of non-fossil fuels in primary energy consumption to about 20% by 2030.
Also, China's new five year plan, mapped out last October, puts great emphasis on clean production, and green and low-carbon industry.
In a bid to undertake more responsibility in tackling the pollution, China adopted sweeping changes to its 1995 Law on the Prevention of Environmental Pollution which include a "polluter pays" liability scheme.
The "polluter pays" principle is an act that requires the party that causes pollution to pay for the damage done to the natural environment.
China has adopted the 'polluter pays' principle which can easily be adapted for emerging economies and developing countries, says Christopher Bovis, professor of business law at the Business School of the University of Hull.
"The 'polluter pays' principle is the foundation of environmental protection in the developed and industrialised countries where it is purported that remediation of any environmental damage is born by the polluter, at any state of the production process, even post-production, such as in cases of product end-of-life costs and liabilities, market withdrawal and recycling."
This represents some of China's environmental protection policies and strategies that would benefit other emerging economies, he adds.
However, China's promise on ecological endeavours and its dedication to sustainable development, coupled with its slowing economy, has had a negative impact on some of China's state-owned enterprises, especially in heavy industry.
A recent Beijing Youth Daily report shows that about 21 percent of the country's listed State Owned Enterprises saw profit losses in the first three quarters, with the worst ten losing about 13.5 billion yuan ($2.1 billion, 1.38 billion pounds, 1.91 billion euros).
Those in industries such as steel, coal, shipping and non-ferrous smelting are worst-hit, among which 30 percent are steel and non-ferrous smelting companies and 20 percent are coal firms, said the newspaper.
The reform of China's SOEs, many of which are heavily indebted, represents a particular challenge, says Neil Hirst, Senior Policy Fellow for Climate Change and the Environment at Grantham Institute, Imperial College London.
Hirst is the lead author of the Grantham Institute and Chatham House discussion paper "The Reform of Global Energy Governance". He is currently working with China's Energy Research Institute of the National Development and Reform Commission on a joint project on China and International Energy Governance.
"They will need to adapt to a world of surplus basic industrial capacity in which some of the most promising growth opportunities are in carbon reduction, including renewables and energy efficiency. In some basic industries, there will need to be extensive consolidation and re-focusing on higher value-added, cleaner production," Hirst explains.
He thinks, it is a lesson that some major European utilities have been slow to learn, to their cost, adding "China has some of the most efficient industrial plant in the world but it also has a big tail of less efficient equipment. The Chinese government has been leading the way on energy efficiency through its massive Top 1,000 Enterprises programme and this is expected to continue."
In order to enhance productivity, efficiency and to further eliminate outdated procurement and management practices, the pace of change will need to accelerate, says Chris Rudd, professor of mechanical engineering at the University of Nottingham.
"No single measure will rescue this major part of the national infrastructure but a combination of mixed ownership, management changes, business spinoffs and overseas partnerships will help to refresh the portfolio and enhance their readiness to embrace change, new technologies and market responsiveness," Rudd explains.
As major providers and consumers of energy and other natural resources, Rudd believes the SOEs are critical in delivering a green future and accelerating reform in the sector is of paramount importance.
Will China's climate mitigation efforts, in addition to this fundamental economic shift, be positive or negative for economic growth? Hirst finds it difficult to answer but says the two trends are closely related.
Hirst adds, "There may be cases where electric power or new construction, or industrial operations, will be more expensive because of environmental requirements. But there will definitely be some positive impact. Improved efficiency in buildings and industry usually pays for itself in a few years."
"Some of the new higher value-added industries that China needs may be in advanced energy efficient products or in low carbon energy. Solar photovoltaic units are already an example," Hirst says.
On balance, he thinks that the low carbon revolution will complement the wider rebalancing of China's economy and will contribute positively to economic growth.
"This may be, in part, what President Xi meant when he said that China's climate change efforts are integrated into its medium and long term programme of economic and social development. Of course, in addition to the benefits for the global climate there will be big local environmental benefits in China," says Hirst.
To contact the reporter: wangmingjie@mail.chinadailyuk.com