China's hectic diplomatic year 2015 saw President Xi Jinping spend 42 days conducting eight trips abroad. It also witnessed an ever-increasing recognition of the country's enhanced global role and a boost in diplomatic ties with major world powers including the United Kingdom and the United States, and neighboring countries like Pakistan and Indonesia.
Visit to Pakistan in April
China and Pakistan long viewed each other as "iron friends," and upgraded their relations to an all-weather strategic partnership of cooperation, eyeing perpetual friendship from generation to generation. "The Pakistan-China friendship is higher than mountains, deeper than oceans, sweeter than honey, and stronger than steel." said Pakistani Prime Minister Nawaz Sharif.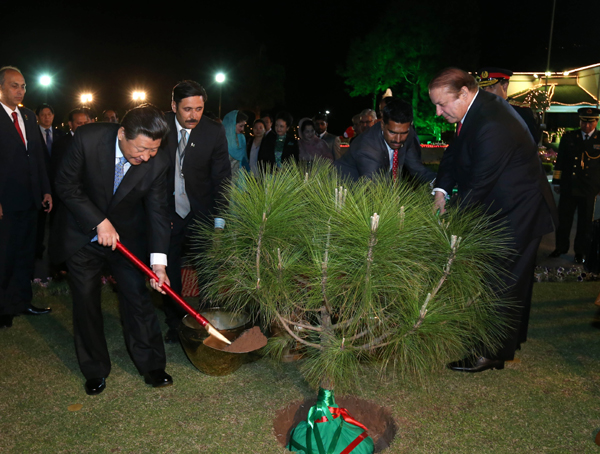 President Xi Jinping (front L) plants "China-Pakistan Friendship Tree" with Pakistani Prime Minister Nawaz Sharif at the lawn of the Prime Minister House in Islamabad, capital of Pakistan, April 20, 2015. Xi pointed out that this is a symbol of friendship between China and Pakistan, saying that the friendship between the two countries will last forever as the pines. [Photo/Xinhua]