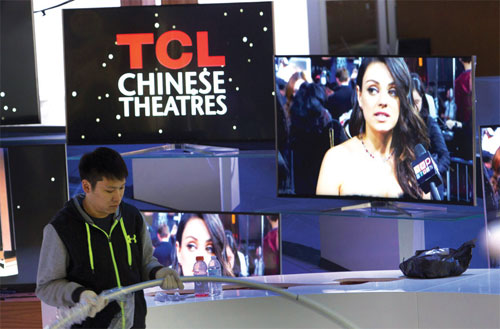 A worker sets up a display on Sunday in the TCL booth in preparation for the 2016 International CES trade show at the Las Vegas Convention Center in Las Vegas, Nevada, this week. [Photo/Agencies]
More than 1,100 Chinese companies making up more than a quarter of the 3,600 exhibitors will represent at the Consumer Electronics Show (CES) in Las Vegas, Nevada, this week.
Chinese companies have taken out sprawling booths on the show floor of the Las Vegas Convention Center. Major TV makers Hisense Co Ltd and Sichuan Changhong Electric Co Ltd will set up next to Intel Corp, the US semiconductor giant, occupying prime locations in the main hall at the convention center.
The growing presence of Chinese companies is palpable.
The Chinese lineup includes makers of home appliances, computers and smartphones, such as Lenovo Group Ltd, Huawei Technologies Co Ltd, ZTE Corp, Haier Group, TCL Corp, Skyworth Digital Holdings Co Ltd and Konka Group Co Ltd.
Starting Wednesday, some exhibitors will unveil new products while others hope to use the extravaganza as a springboard to capture bigger slices of their markets.
E-commerce giant Alibaba Group Holding Ltd, Chinese website Baidu Inc and LeTV, the "Netflix of China", also will attend the show.
Beyond the traditional markets, Chinese companies also will have a presence in the emerging categories of drones and autonomous cars.
Shenzhen-based DJI is the world's largest maker of consumer drones and is again expected to dominate the unmanned-systems marketplace this year.
Faraday Future Inc, a California-based electric-car company funded by LeTV Chairman Jia Yueting, has received a lot of attention due to some leaked photos of its much anticipated concept car.
The details state that it has more than 1,000 horsepower and can go from 0 to 60 mph in less than three seconds. The car will be unveiled at the show.
China-based automaker BAIC BJEV announced it will present a new intelligent network system at CES.
Tim Bajarin, president of Creative Strategies Inc, said the increased presence of Chinese companies resembles how Japanese players embraced CES in the early 1990s.
"Make no mistake, the Chinese have arrived," Bajarin wrote on Time.com. "They plan to disrupt the traditional CE players as much as possible."
The world's largest electronics show takes place every January in Las Vegas. Last year, more than 170,000 attendees from over 150 countries gathered across 2.2 million square feet of exhibit space. The event will expand again this year, to 2.4 million square feet.
According to various news outlets, people are expecting to see more 4K TVs, virtual reality headsets, robots and drones, smarter homes, fashionable wearables, connected cars and plenty of quirky stuff such as robotic bartenders, connected toothbrushes and smart bras.
hezijiang@chinadailyusa.com