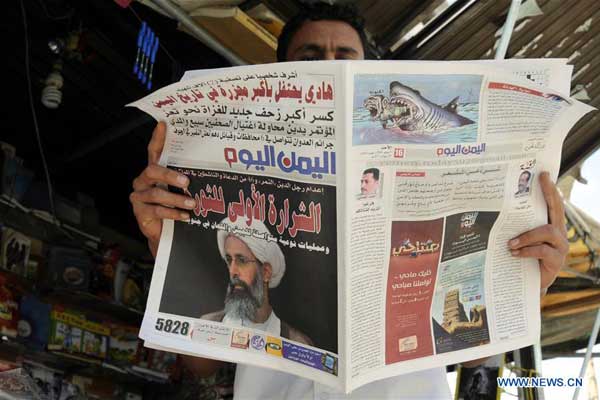 A man reads the newspaper showing the photo of the prominent Shi'ite cleric Sheikh Nimr al-Nimr in Sanaa, Yemen, Jan 3, 2016. Saudi Interior Ministry announced on Saturday the execution of 47 people on terrorist charges, including the dissident Shi'ite leader. [Photo/Xinhua]
RIYADH -- Saudi Arabia announced on Saturday cutting off diplomatic ties with Iran and asked all Iranian diplomats to leave within 48 hours, local media reported.
Saudi Foreign Minister Adel al-Jubeir said he has informed the UN Security Council of the attack on the Saudi diplomatic mission in Iran late Saturday, adding that those Saudi diplomats had reached Dubai, the UAE, safely.
He accused the Iranian authorities of not taking any measures to prevent the attacks against the embassy in Tehran and the consulate in the Iranian city of Mashhad.
On late Saturday, angry Iranian protesters stormed the Saudi diplomat mission to protest the Saudi execution of 47 individuals on terrorism charges, including a Saudi Shiite cleric, Namir Al Namir, a member of the Saudi Shiite community.
The attacks violated international agreements, al-Jubeir said, who also cited the Iranians' previous attacks on U.S. and British embassies.
He accused Iran of providing protection for Al-Qaeda through weapon trafficking.
For his part, Iranian President Hassan Rouhani used the word "inhuman" to strongly denounce the Saudi execution.
He also urged relevant Iranian departments to prosecute those "extremist individuals" who attacked the embassy and the Saudi consulate in the northeastern city of Mashhad.
Though Saudi Arabia has cut diplomatic ties with Iran, Iranian Deputy Foreign Minister Hossein Amir-Abdollahian responded that Riyadh's move will by no way cover up "its major mistake of executing Sheikh Nimr."
Ayatollah Ali Khamenei, Iran's top leader, predicted "divine vengeance" for al-Nimr's execution.
In the Middle East, tensions between Iran and Saudi Arabia have been lasted for decades. The Saudi Shiite cleric's execution further intensified the rivalry.
Al-Nimr's execution by Saudi Arabia led to a series of protests in Shiite-majority countries across the Middle East.
Iraq expressed anger over Riyadh's execution. Iraqi top Shiite cleric Grand Ayatollah Ali al-Sistani slammed the execution as an "unjust aggression."
In Istanbul, people gathered outside Saudi Arabia's consulate holding posters of al-Nimr, and shouted "Saudi Arabia will pay the price."
Some Western countries also voiced their concern about al-Nimr's execution.
Washington said that in order to ease tension, it hoped regional leaders could deepen diplomatic ties and take "affirmative steps."
"We believe that diplomatic engagement and direct conversations remain essential in working through differences and we will continue to urge leaders across the region to take affirmative steps to calm tensions," said an official of U.S. President Barack Obama's administration.
On Sunday, France showed its grief over the mass execution and restated that France would stand against death penalty "in all places and circumstances."