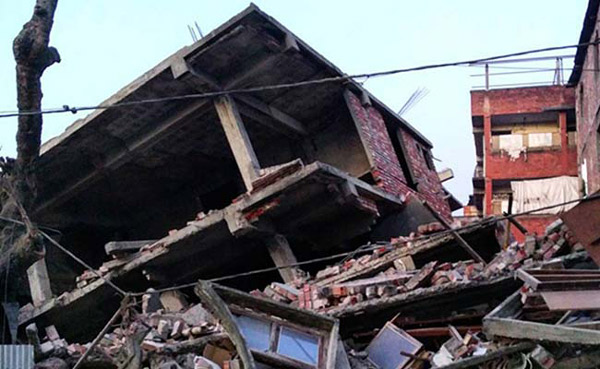 The earthquake was 57 kilometres deep and struck 29 kilometres west of Imphal, according to the US Geological Survey. [Photo/Agencies]
GAUHATI, India - A 6.7-magnitude earthquake struck northeast India and adjoining Myanmar, Bangladesh and Bhutan in the early hours today.
Five persons have reportedly died in Manipur's capital, Imphal and around 40 were injured, according to New Delhi Television (NDTV).
There were reports of damage to a popular market in Imphal, the capital of Manipur state. The tremor left large cracks in several walls and a portion of the building collapsed, police said.
India's Meteorological Department said the epicenter of the quake was in Tamenglong region of Manipur state. It struck before dawn on Monday at a depth of 17 kilometers (about 10 miles) in the India-Myanmar border region. The US Geological Survey said the depth was 55 kilometers (about 34 miles).
The epicenter of the earthquake was 35 kilometers (20 miles) northwest of Imphal.