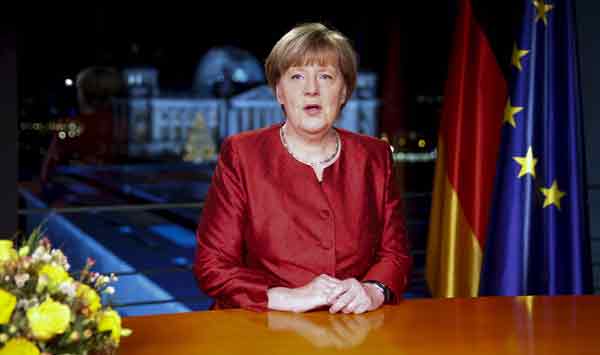 German Chancellor Angela Merkel poses after recording her New Year's speech in the Chancellery in Berlin, Germany, December 30, 2015. [Photo/Agencies]
BERLIN -- German Chancellor Angela Merkel called on Thursday in her New Year's address the influx and integration of refugees "an opportunity for tomorrow", asking Germans to keep united and not to follow racist hatemongers.
For the first time, Merkel's New Year's speech, which centers around the current refugee crisis this year, has been translated into Arabic. The version with Arabic subtitles is set to be available online following the TV broadcast on Thursday evening.
The year of 2015, which sees Germany taking in 1 million asylum seekers, has been unusually challenging, said Merkel in the address broadcasted on German ZDF public television.
But she stressed that efforts to cope with the challenges would all be worth it in the end because "countries have always benefited from successful immigration, both economically and socially".
"It is important that we don't allow ourselves to be divided," said Merkel.
She urged German people not to follow "those who, with coldness or even hatred in their hearts, claim the right to be called German for themselves alone and seek to exclude others."
Merkel has gained both praise and criticism at home and abroad for her decision to open German borders to a record wave of refugees, about half of them were from war-torn Syria.
Faced with opposition in her party camp and popular concerns, she has vowed to reduce the influx next year, including convincing other European Union(EU) members to take in more refugees and an EU deal with Turkey to better protect the bloc's borders.