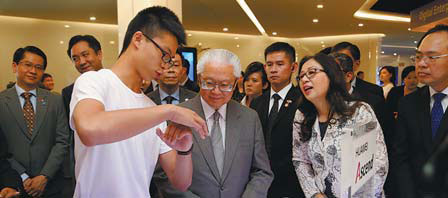 Students from Singaporean universities who participated in the Seeds of the Future program present advanced technologies and devices to Singaporean President Tony Tan Keng Yam (center) during his visit to Huawei's Beijing Executive Briefing Center in early July.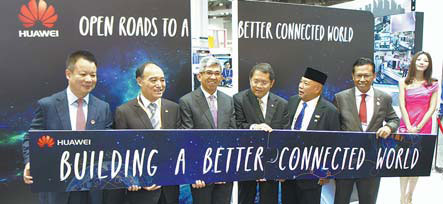 Huawei showcases its cutting-edge smart city solutions at the CommunicAsia 2015 event in June, in Singapore. Yaacob Ibrahim (center), minister of Communications and Information, and Zhao Houlin (second left), secretary-general of International Telecommunication Union were present to launch Huawei's booth. Photos provided to China Daily
For 14 years, Chinese IT giant Huawei has been part of Singapore's information and communication technology sector contributing to the industry's advancement in the country, with more than 60 percent of Singaporeans using the Huawei-powered network.
The company has partnered with all three major telecommunications operators in Singapore and is a key technology provider in the country's next-generation broadband network - the all-fiber ultra-high-speed broadband network under Singapore's Smart Nation master plan.
"Singapore has always been at the forefront of development in Asia," said Zhou Bin, CEO of Huawei Singapore, adding that the country's focus on IT serves as "the foundation and enabler of innovation and social and economic development".
Investment in IT infrastructure "generates high added value as it empowers other industries in Singapore to become more intelligent and to leverage the opportunities presented in a better connected world," Zhou said.
Huawei also works closely with the Singaporean government and educational institutions and has introduced various programs to inspire the younger generations' interest in the IT business.
One of the company's efforts in doing this is its sponsorship of Labs-on-Wheel, a mobile exhibition that visits primary schools, where children aged between 6 and 12 play with the lab's new and interactive technologies.
Huawei has also partnered with Singapore's Infocomm Development Authority to build the Infocomm Experience, which demonstrates the possibilities of Smart Nation services to enterprises for business use and to consumers for use in their daily lives.
Another joint project with the IDA is the Green Data Centre Innovation Program, where Huawei is a member of the technical advisory team to build Singapore's first, and the world's leading, green data center.
In 2013, Huawei started the Singapore chapter of its Seeds for the Future program, a global talent building program that started in 2008 and aims to bring the latest in information and communication technology into classrooms through overseas training and certification.
Top students from Singaporean universities who participated in the program presented cutting-edge technologies and devices to Singaporean President Tony Tan Keng Yam during his visit to Huawei's Beijing Executive Briefing Center in early July.
As part of its global commitment to integrate into local communities, Huawei aims to provide opportunities to the local talent pool. The company has about 720 employees in Singapore, with 80 percent of them Singaporeans.
Huawei has won several accolades for its achievements in Singapore, including the Frost & Sullivan 2014 Best Practices Award for Best Broadband Vendor, the Singapore Top 1,000 Enterprises Award 2014 for Best Supplier of the Year and the Top 100 IDEAL Employer Award 2013 for Best Supplier of the Year.
"Singapore's accomplishments over the past 50 years have made it a model of best practice emulated by many countries around the world, and its vision to become the world's first truly smart nation will no doubt be closely followed globally," Zhou said.
zhangzhao@chinadaily.com.cn