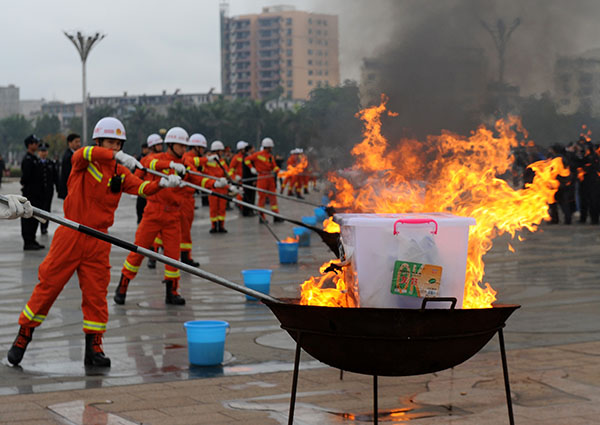 Drugs from China and Vietnam are destroyed in Ningming, Guangxi, on March 10 last year. LI BIN / XINHUA
China and Vietnam are poised to intensify measures to combat cross-border trafficking
China and Vietnam are to strengthen judicial cooperation to combat cross-border drug trafficking, the Ministry of Public Security said on Thursday.
The border area between the Guangxi Zhuang autonomous region and Vietnam has become the second-largest channel for smuggling drugs to China, according to the ministry.
It said in a statement that the border with Myanmar is the main route for such smuggling.
China borders two major international centers for opium and methamphetamine production - the Golden Triangle and Golden Crescent.
The Golden Triangle, which includes Myanmar, Laos and Thailand, is the world's major drug producing area and Yunnan province and Guangxi are the worst-hit drug trafficking areas in China, the ministry said.
The Golden Crescent overlaps Afghanistan, Iran and Pakistan.
China and Vietnam are conducting a campaign from Sept 16 to Nov 15 to combat drug smuggling and target major trafficking rings.
According to the ministry, since Sept 16, law enforcement officers from the two countries have discovered 1,466 drug smuggling cases, captured 2,054 suspects and confiscated 2,383 kilograms of drugs.