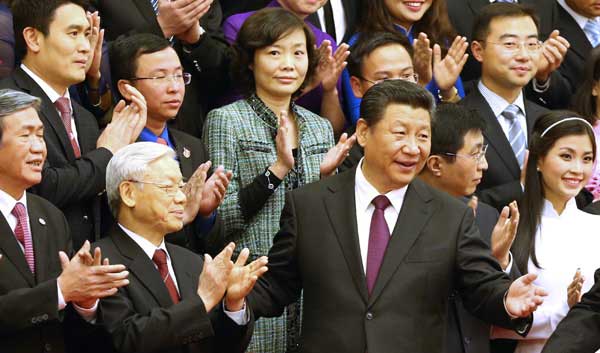 Chinese President Xi and Nguyen Phu Trong, Vietnam's Communist Party chief, address young people from both countries in Beijing, April 4, 2015. [Photo by Wu Zhiyi / China Daily]
After a flurry of diplomatic activity involving top European nations, President Xi Jinping is turning his attention to Southeast Asia, making key visits to Vietnam and Singapore amid tensions over the South China Sea.
On Thursday, he starts a visit to Vietnam, the first to the country by a Chinese top leader in a decade and Xi's first to the nation since he took office in 2013.
His trip signals an improving relationship between Beijing and Hanoi.
Xi, as General Secretary of the Communist Party of China Central Committee and President of China, will make a state visit to Vietnam from Thursday to Friday.
The visit is being made at the invitation of Nguyen Phu Trong, general secretary of the Central Committee of the Communist Party of Vietnam, and Vietnamese President Truong Tan Sang, according to the Chinese Foreign Ministry.
Xi will leave Vietnam on Friday to make his first state visit to Singapore at the invitation of Singaporean President Tony Tan Keng Yam. The visit will mark the 25th anniversary of the establishment of diplomatic relations between the two nations.
He will meet with Tan and Singapore's Prime Minister Lee Hsien Loong and also attend signing ceremonies for cooperation agreements.
Liu Zhenmin, China's vice-foreign minister, said Xi may sign deals with Singaporean leaders covering finance, education, technology and urban management.
Xi will also meet with Taiwan leader Ma Ying-jeou on Saturday to discuss cross-Straits issues.
In recent years, China and Vietnam have seen more frequent exchanges between high-ranking leaders, closer economic and trade relations as well as people-to-people and cultural exchanges.
In September, Truong Tan Sang attended the ceremony in Beijing marking the 70th anniversary of the Chinese People's War of Resistance against Japanese Aggression (1937-45) and the World Anti-Fascist War.
Wei Ling, director and researcher at the Institute of Asian Studies at China Foreign Affairs University, said Xi's state visit to Vietnam will send a positive signal to the world as it watches the situation in the South China Sea.
"Xi's visit will not only serve as a stabilizer, but more importantly as a propeller." Wei said. "Despite existing differences, getting closer with Vietnam is a way of demonstrating confidence to the international community.
"China insists on shelving disputes when they can't be solved immediately, but that does not mean we cannot enhance our relations." Wei said.
Jia Duqiang, an expert on Southeast Asian studies at the Chinese Academy of Social Sciences, said Xi is visiting Vietnam and Singapore partially because of the significant roles and influence that they have within the Association of Southeast Asian Nations.
Xinhua contributed to the story.