The British pub that President Xi Jinping and Prime Minister David Cameron visited in Buckinghamshire last Thursday has become an overnight sensation.
"We have received many Chinese customers during the weekend. Normally most customers are local residents," Steve Hollings, the landlord of The Plough at Cadsden, told China Daily on Sunday.
After the pub opened at noon on Sunday, nearly 30 Chinese customers in seven groups paid a visit in less than one hour.
Fish and chips, a traditional Britishdish, and the India pale ale beer that Xi sampled on Thursday evening were ordered by almost every Chinese customer, Hollings said.
Since local regular customers had booked most tables in the pub, Chinese customers had to wait and eat at tables outside.
Miao Xin, a 26-year-old Chinese studying in London, arrived at the pub by car with his three friends. "We read the news that President Xi visited here and would love to experience the food and drink that Xi tasted," Miao said
Another group of Chinese students, also from London, posed and took photos near the two seats where Xi and Cameron sat in the pub.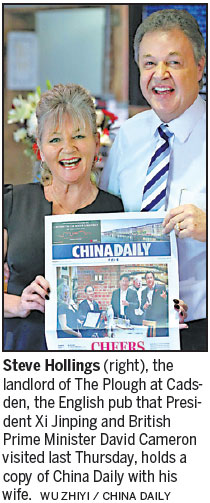 "We all know that fish and chips is called the British national food that you can find everywhere. However, with Xi's visit, we are curious what is special at this pub," one student said.
One Chinese man, surnamed Liu, drove to the pub with his wife, mother and baby. "After Xi's visit to the pub, I found the name and location, then brought my family here. We wanted to experience it."
On the pub's menu, the large portion of fish and chips is 14.95 pounds ($23), the small portion is 10.95 pounds, and the IPA beer is 3.60 pounds. Some Chinese visitors joked that may be the pub will be a new attraction in the future.
"Going to the pub is a British tradition," Hollings said, adding that British people often go to a pub to relax and chat with friends. "The prime minister bringing Xi to the pub means he treats Xi as a friend."
Hollings said that they served Xi and Cameron with fish sticks, not the whole fish, since the prime minister's office staff had advised them that Xi would have a formal dinner after the visit.
He revealed that Xi also sent an e-mail thanking him and saying that he really enjoyed the meal and drink in the pub. The landlord did not display the e-mail.
"Xi joined in conversation with some of our customers and even shook hands with many of them.
"Taking advantage of the opportunity of a lifetime, one regular stepped up and encouraged a friend to film him with his arm around Xi," Hollings said.
The landlord also disclosed that the customers on Thursday evening were all regulars and didn't know about the surprise visit. "They were very excited," he said.
It was a quite remarkable moment and will no doubt be the subject of conversation here for years to come, Hollings said.
The pub traces its history back to the 16th century, when it was a staging post for London coaches.
zhangchunyan@chinadaily.com.cn
(China Daily 10/27/2015 page3)