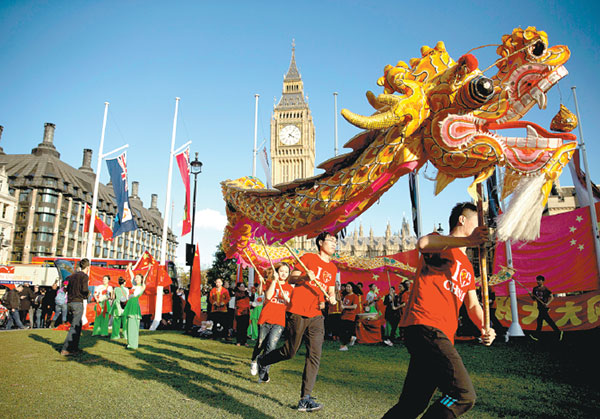 A Chinese dragon dance group performs on Parliament Square outside the Houses of Parliament on Tuesday to welcome President Xi Jinping. MATT DUNHAM / ASSOCIATED PRESS
Mintel research reveals that UK brands are perceived to be luxury, classic and trendy by Chinese consumers. This is certainly encouraging for UK companies looking to expand their footprint in China, especially those from the luxury, art and technology sectors.
For example, we are already seeing brands such as Burberry being a pioneer in luxury brand digital marketing with its collaboration with WeChat, China's leading online social media platform.
However, when compared to the perception of Chinese brands, UK brands only stand out in "luxury" (37 precent vs 13 percent), "trendy" (33 percent vs 23 percent) and hightech (26 percent vs 18 percent) in Chinese minds, and they hold almost no advantage in being "innovative" (26 percent vs 24 percent) and "classic" (35 percent vs 34 percent). This is partly because of the emergence of powerful national brands and companies such as Huawei, Xiaomi, Alibaba and Tencent, but also indicates the marketing of British brands relying too much on traditional heritage which results in themselves being too similar to each other. For example, how different is the sense of Britishness in Burberry, Twining's or RollsRoyce in Chinese minds? This suggests that as Chinese brands are leveling up their competitiveness in the global market, UK brands also need to rethink about their image building strategies and perhaps convey the sense of "Britishness" in more creative and diversified ways.
Mintel also sees that people's changing attitude toward foreign brands is reshaping the competition and bringing opportunities for imports.
Our exclusive research shows that consumers are increasingly defining the internationalness of a brand based on the origin of ingredients (33 percent) and country of production (31 percent), rather than superficial factors such as whether it is endorsed by a foreign celebrity (21 percent) or there are foreign languages printed on the product packaging (12 percent). This shows that as consumers become more sophisticated, they demand more products made with exactly the same quality standard of foreign brands.
At the same time, they become more discerning so foreign brands must really justify the premium price they charge instead of simply relying on an international brand name.
With its flagship store on Alibaba's Tmall, UK's retailer giant, Sainsbury, is the latest example of how UK companies are tapping to meet the increasing demand by Chinese consumers for the same products that British consumers are buying from their local shops. Conversely, we are also seeing domestic giants such as Bright and Mengniu buying British brands, such as Weetabix or collaborating with British companies to bring more product offerings to the Chinese market as well as learning from their innovation and marketing expertise.
Mintel expects to see more of such partnerships in the future, as the two great nations are now working on starting a "golden era" of relations with this week's state visit. This will drive businesses growth in both countries, and there has never been a better time for both sides to go bold and aggressive in their strategies. In terms of commerce and trade, not only is this a huge opportunity for British exports to China, it also brings profound implications for retailers in both countries which means they should change their strategy by competing more on global product offerings and quality instead of prices.
The author is head of research at Mintel China.