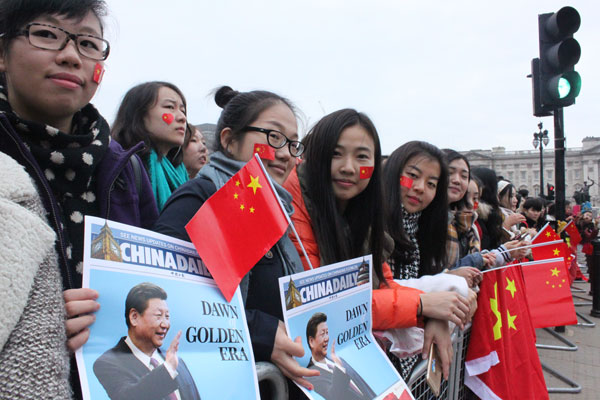 Chinese students wait for the arrival of Chinese President Xi Jinping who is on a state visit to the UK in front of the Buckingham Palace, London, Oct 20, 2015. [Peng Yining/China Daily]
It is two hours before dawn outside Buckingham Palace. In the chilly morning breeze, I am surrounded by excited Chinese students awaiting the arrival of President Xi Jinping and his wife, Peng Liyuan, in the Queen's royal carriage.
"I am freezing," one complained to a companion. Without saying a word, the woman wrapped her friend in a big Chinese national flag. Together, two 20-year-old college students shared the warmth of the giant banner with its five yellow stars.
Homesickness always strikes at vulnerable moments and, for young people living in a foreign land, those moments can be frequent.
Li Yijing, a 23-year-old student from northwestern China's Gansu province, said she misses everything back home since she came to London for her education a year ago.
"I miss Chinese food, television programs. I cook as much as I can, which is weird, because I didn't like Chinese food that much before I came to the UK," she said. "It seems that I love my country more after I left it."
When she was told the president would be visiting in October, Li said she was thrilled.
"It is not just watching the president passing in front of me. The state visit also brings a lot of Chinese signatures to London," said Li, referring to the Chinese flags along The Mall, the lanterns in Chinatown and numerous events related to China.
"It feels like Spring Festival came earlier this year," she said. "Usually I'd feel a little bit sad spending Spring Festival in a foreign country, but this time I am happy."
And it is always nice to welcome visitors from home.