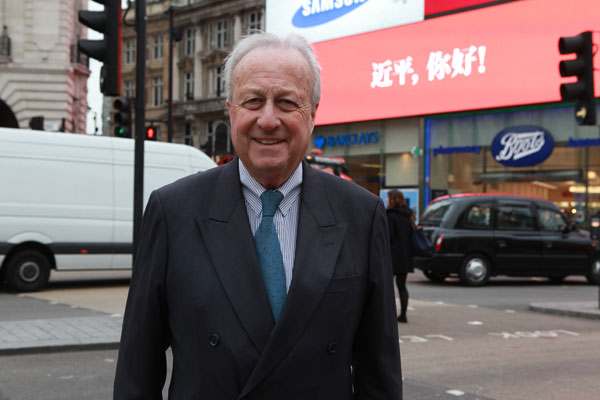 Ben Chapman, former Chairman of the All Party Parliamentary China Group and Vice President of the 48 Group Club, stands in front of the electronic screen showing "Nihao, Jinping!", or "Hello, Jinping" at Piccadilly Circus, London, Oct 20, 2015. [Tuo Yannan/China Daily]
The Chinese language greeting "Nihao, Jinping!" is shining across London's Piccadilly Circus during China's President Xi Jinping's state visit to the United Kingdom on Oct 19 to 23.
The electronic screen is one of the most famous landmarks in London, and more than 2 million visitors will pass by every week, according to Louise Stubbings, sales director of the electronic board operating company Storm Digital United Kingdom. She was speaking to China Daily.
"It has been 10 years since the last visit of China's top politician to the United Kingdom, it is an important symbol that the two countries have entered the 'golden era', we are eager to see president's visit to bring the bilateral relationship further," said Zhang Jinglong, president of the UK Chinese Business Association.
The screen is designed and sponsored by the association.
"China becoming stronger will benefit overseas Chinese directly, especially in recent years, an increasing number of Chinese investors have come to Britain to invest in various industries, such as financing, real estate, bio-pharmaceuticals and high-tech", Zhang explained.
Ben Chapman, former Chairman of the all-party China Group in the British Parliament and vice president of the 48 Group, told China Daily that President Xi's visit is more than he ever anticipated.
"He is a very welcom visitor in United Kingdom, and we look forward to him enhancing the relationship between the two countries. And we think that here in Piccadilly Circus, where so many Chinese tourists come, it's a very appropriate way to celebrate his arrival," Chapman said.
"We hope that throughout Xi's visit, we will develop further bilateral ties in trade, investment, culture, tourism, and people-to-people dialog. We hope that in the global environment we will become part of it, not just in trade, but also in peace, economy, and other aspects," he added.
Chinese and British flags have been displayed for days now, demonstrating that the British consider this visit as an important issue, according to London Chinatown Chinese Association President Tang Chuting: "Chinese people in the UK are very happy to see President Xi' and tour of the country. We are pleased to be able to greet the national leader with large-scale activities in London."
Karen Kwok is also contributed to the story
To contact the reporter: tuoyannan@chinadaily.com.cn