The City is becoming a key center for exchange of the Chinese currency and yuan-denominated products
The City of London has long been the world's leading financial and business center. However, the term applies to more than just the geographical square mile, and represents the entire cluster of UK-based financial and professional services.
For international finance and business, London is the gateway to Europe and the wider world, with numerous firms managing global assets from London. Nevertheless, the continent and the United Kingdom remain key trade and investment partners.
Official UK trade statistics show that more than 40 percent of UK exports of goods and services were destined for the EU last year, and we have more European headquarters of international financial services companies than does any other European city. This goes to show how the City plays a key role in shaping and driving the European economy.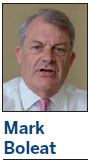 In recent years London has won itself a new title as a leading offshore renminbi business center. There are several definitions as to what a renminbi center is. My view is that it is a place that has the infrastructure, skills and demand from business to use renminbi-denominated products and services effectively. Moreover, it must have comprehensive financial relations with China and other key markets, along with a record of substantial transactions in yuan. In these aspects, London ticks all the boxes.
The City of London initiative for London to be a center for renminbi business was launched in April 2012 and is encouraging the growth of renminbi business in London, Europe and globally. It brings together public and private sectors, including 12 leading global banks in the offshore yuan market, and aims to create a long-term sustainable market in Europe in which financial institutions offer renminbi products and services that make trade processing easier.
London's role in the global renminbi market is relatively new, but it is growing strongly amid a rising number of global renminbi centers. According to our research, our strength as the world leading foreign exchange center was demonstrated by the rapid growth of renminbi foreign exchange trading, with average daily volumes reaching $61.5 billion (54.1 billion euros). This is nearly six times as large as those reported in the first survey in 2011.
As the market continues to develop, we expect to see more innovation and larger investor demand for renminbi products and services, including from institutions and corporations doing business in the UK.
Two particularly significant milestones have been reached in recent years: the establishment of an official renminbi clearing bank in London and the first sovereign renminbi bond issuance outside China by the UK government. It is encouraging to see that the yuan is now the world's fifth most widely used payment currency, with the value of cross-border deals settled in renminbi more than doubling last year. The UK is the fastest growing market in Europe for renminbi payments, with 28 percent of all international renminbi payments made in the UK.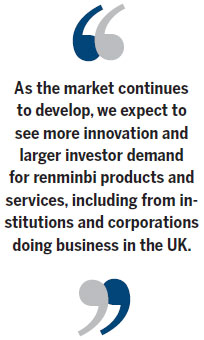 The members of the City of London's renminbi initiative have been engaging in constructive dialogue with policymakers and businesses in China. They have been discussing mutual areas of benefit for the internationalization of the yuan and encouraging an exchange of information.
During my annual visit to China in July, further international expansion of Chinese companies and the renminbi's potential inclusion in the International Monetary Fund's Special Drawing Rights basket were among the topics of discussion. It was joined by such significant developments as China's adopting a "new normal" of slower but higher quality growth, and the potential dividends of implementing a targeted, pro-market economic strategy.
Although the renminbi is not a fully convertible currency yet, all the signs indicate that it is moving in that direction. They include capital account liberalization, expansion of renminbi cross-border transactions, and increasing renminbi use as part of international reserves for some countries. The development of London's renminbi market can facilitate this process, and a thriving offshore yuan market will also benefit all participants, including London.
Of course, as international use of the renminbi increases, markets will need to be served by a number of centers in different parts of the globe. London fully recognizes the importance of coordination between financial centers and is open to engagement with other European and global financial centers. We are all committed to encouraging the growth of global renminbi liquidity and developing the most efficient system possible.
The author is the policy chairman of the City of London Corp. The views do not necessarily reflect those of China Daily.