Invited by Queen Elizabeth II, Chinese President Xi Jinping will make his first official state visit to the UK starting from Oct 19. The visit has generated great attention in the British community and Xi will meet with people from different walks of life and also his old friends.
Prince William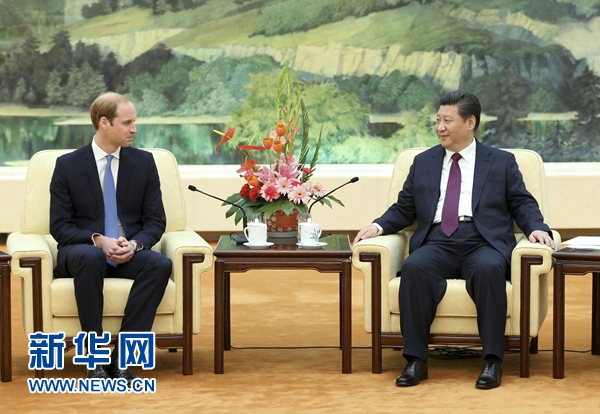 President Xi Jinping meets with Prince William in Great Hall of People in Beijing, Mar 2, 2015. [Photo/Xinhua]
Prince William is the most senior British royal to visit China since the Queen's tour of the country in 1986.
President Xi appreciated the Royal Family's great interest in, and support for, Chinese/UK relations over the years.
"Members of the Royal Family have done a lot and contributed positively to changes and co-operation between our two countries in areas ranging from trade to environment protection... and cultural exchanges," Xi said.
He also congratulated Prince William on expecting his second baby.
Prince William thanked the president "enormously" for inviting him to the Great Hall of the People and presented Queen Elisabeth II's invitation for President Xi to visit UK.
They also talked about their mutual love of soccer.
While President Xi said that he wished Chinese soccer team could learn from the British team, Prince William said he "looked forward to learning about China's football".