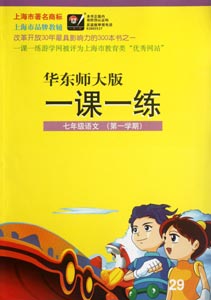 The cover of the Chinese version of Yi Ke Yi Lian.
A popular mathematics textbook from Shanghai will be published in the UK this summer, as part of the country's efforts to learn from the city's excellent mathematics teaching methods.
The book Yi Ke Yi Lian, or One Lesson, One Exercise, first published about two decades ago, has long been essential to the teaching and learning process among Shanghai's teachers and students.
"The British version of the book will contain some changes, but it will integrate with the local curriculum," said Wang Yan, director of Shanghai-based East China Normal University Press, the book's publisher.
Part of the contents of the Chinese version will be deleted because of the different education system and curriculum setting, and some terms and background knowledge will be changed. But the overall difficulty level will not be lowered, Wang said.
The British version has 11 volumes, in keeping with the UK's 11 educations grades from primary school to junior high school.
"The book has been undergoing translation and is expected to be published by a UK publisher in the summer," Wang said.
British education authorities started learning mathematics education experiences and teaching methods from Shanghai last year.
In September, as part of an exchange visit, 60 of Shanghai's top mathematics teachers were sent to selected British schools to share their teaching experiences and skills to help lift standards in Britain, while a number of teachers from the UK visited Shanghai to learn from their peers in China.
The focus on Shanghai stems from the city's students being ranked top in the 2012 mathematics exam of the Program for International Student Assessment, which has been issued by the Organization for Economic Cooperation and Development since 2000 to evaluate the skills of students. In comparison, UK students were ranked 26th.
"Basic education in China has been recognized by the world," said Ni Ming of East China Normal University Press.
Later this year, another 29 mathematics teachers from Shanghai will go to selected primary schools in the UK to share their experiences and teaching techniques, according to the Shanghai Education Commission.
wanghongyi@chinadaily.com.cn