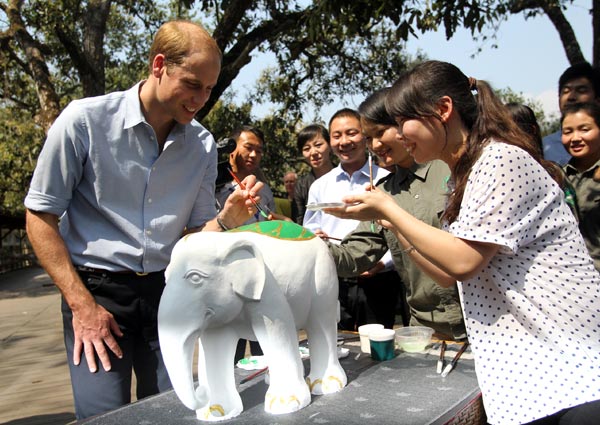 Prince William paints a leaf on the back of a model of a baby elephant during his visit to Wild Elephant Valley in Xishuangbanna, Yunnan province, on Wednesday. The leaf implies cherishing of the rain forest, which is tied to the protection of the wild elephant population. Zhang Wei / China Daily
Prince William visited a sanctuary for Asian elephants in Yunnan province on Wednesday to highlight wildlife protection.
Yunnan was the last stop on the Duke of Cambridge's three-day visit to China. The second in line to the throne had visited Beijing and Shanghai before arriving in the Southwest China province.
William arrived at Xishuangbanna, Yunnan, on Wednesday morning and visited the Wild Elephant Valley, a habitat of wild Asian elephants and tourist site in the Xishuangbanna National Nature Reserve.
At the sanctuary, the prince fed an elephant with a carrot. The elephant had been found wounded in a trap in July, 2005. Authorities of Xishuangbanna formed a team of 81 people to rescue it. The sanctuary has also rescued another three wild elephants.
The rain forest in Xishuangbanna is a habitat for endangered Asian elephants. The species has the highest level of protection in China because its existence has been threatened by poaching.
"The greatest threat to elephants worldwide today is not local farmers protecting their livelihoods, it is ruthless and organized poaching and trafficking," William said.
"It (the illegal wildlife trade) is a vicious form of criminality, plundering the natural resources of fragile countries, taking innocent lives, hindering development and spreading corruption," he said, calling for a joint effort to crack down on the illegal trade, and reduce the demand for products such as tusks.
"China can be a global leader in the fight against the illegal wildlife trade. I greatly hope that the UK and China can partner with one another in this endeavor," he added.
William also visited a village of the Dai ethnic group and the Xishuangbanna Tropical Botanical Garden. He planted a tree next to the tree his grandfather, Prince Philip, planted during a 1986 visit to Yunnan with Queen Elizabeth II, when the queen also planted British roses in a park in Kunming, the provincial capital.
Contact the writer at wangqingyun@chinadaily.com.cn