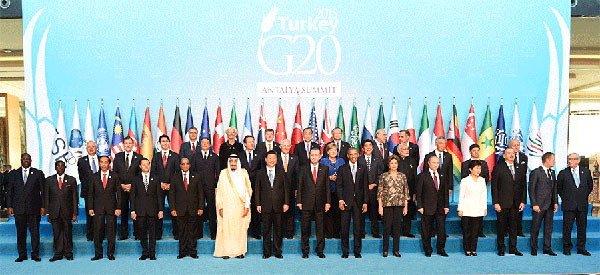 Leaders gather for a group photograph as the G20 summit begins in Antalya, Turkey, on Sunday.[Photo/Xinhua]
ANTALYA, Turkey - The G20 summit concluded Monday with broad consensus on ways of achieving inclusive and robust growth of the global economy, which is still recuperating from the impact of the 2008 financial crisis.
The major economies agreed to take measures to strengthen coordination of macroeconomic policies, promote trade and investment, stimulate employment and boost investment in infrastructure. These measures, if fully implemented, will give a powerful boost to slow economic recovery, analysts said.
The G20 leaders made a dim assessment of the global economic situation in a communique released at the end of their two-day summit in Antalya, a seaside resort in southwest Turkey.
"Global economic growth is uneven and continues to fall short of our expectations, despite the positive outlook in some major economies. Risks and uncertainties in financial markets remain, and geopolitical challenges are increasingly becoming a global concern," the communique said.
However, the G20 leaders said that they remain committed to lifting collective G20 gross domestic products (GDP) by an additional 2 percent by 2018, a target set in the last G20 summit in Brisbane, Australia.
Wang Xiaolong, the Chinese Foreign Ministry's special envoy for the G20 affairs, told reporters that against the backdrop of the sluggish global economic recovery, people have pinned high hopes on the summit, which is a primary forum for international economic cooperation.
"The summit sent a clear message...Although the global economy is experiencing some difficulties, we are still confident in the prospect of its medium-and long-term growth," he said.
The annual gathering of the G20 leaders also displayed the partnership among the G20 members, which is especially valuable at a time when the world economy is not in a good shape, Wang said, adding that the G20 leaders also agreed on a series of concrete measures to stimulate growth.
All of this will contribute to the achievement of a strong, sustainable and balanced growth of the world economy, he predicted.
With a possible interest rate hike by the US Federal Reserves in the coming months, the G20 leaders promised to "implement sound macroeconomic policies in a cooperative manner" to achieve a robust growth.