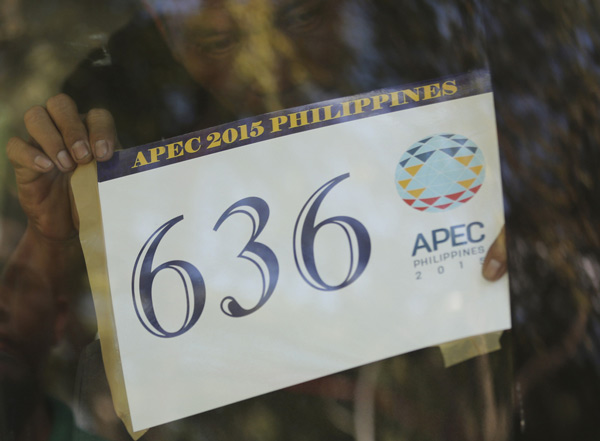 A Filipino man places a signboard on a van in preparation to the upcoming Asia Pacific Economic Cooperation (APEC) summit in Manila, Philippines, Nov 8, 2015. [Photo/IC]
MANILA - The Philippines is ready to host the Asia Pacific Economic Cooperation (APEC) Economic Leaders' Meeting later this month, a senior government official said Monday.
APEC 2015 National Organizing Council Director General Marciano Paynor Jr. said the Philippines is expecting the other 20 leaders of APEC economies to attend the summit on Nov 18-19 in Manila.
"What we are doing now is just finetuning all of the details that need to be done in an undertaking as huge as this. We are prepared to receive 20 Economic Leaders from the various members of APEC," he told a news briefing.
Paynor said Colombian President Juan Manuel Santos will also be attending a meeting with the APEC leaders.
He said the government has been coordinating with other economies for the security measures for their respective leaders.
President Benigno Aquino III will also hold 11 formal bilateral meetings on the sidelines of the APEC summit, Paynor said.