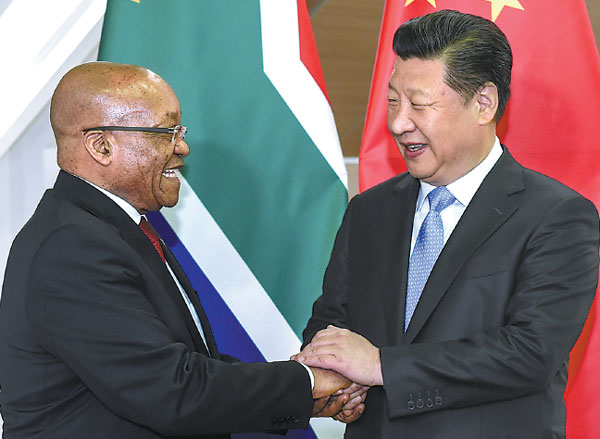 President Xi Jinping meets with South African President Jacob Zuma in Ufa, Russia, on Thursday.  Li Xueren / Xinhua
Countries share the same destiny, says Xi
President Xi Jinping said China will work more closely with South Africa in a range of areas including marine economy, economic zones, energy and finance.
Xi made the remarks when meeting with his South African counterpart Jacob Zuma on the sidelines of the BRICS summit in the southwestern Russian city of Ufa on Thursday, where he described China's relations with South Africa as "the best in history".
The leaders agreed to cooperate more closely within the framework of BRICS and to enhance the group's positive influence on international affairs to better protect the common interests of emerging-market economies and developing countries.
Xi said China and African countries have long shared a common destiny and interests, and that deepening cooperation with African countries had always been an important foundation stone for China's foreign policy.
Zuma echoed Xi's proposal to strengthen cooperation and said the momentum of BRICS countries' development is unstoppable.
South Africa wants to push forward cooperation in healthcare between African countries and China within the framework of the forum, Zuma added.
During the 15th Forum on China-Africa Cooperation, which will be held in South Africa this year, China will work to create a distinguished gathering that strengthens ties between China and African countries and looks to the future of cooperation, Xi said.
He Wenping, director of the Institute of West Asian and African Studies at the Chinese Academy of Social Sciences, said the forum was a good example of the different approaches China takes toward African countries compared with Western countries.
"You can see from past meetings that China is sincerely trying to satisfy the African countries' real needs. No empty talk. Each time a very specific and practical action plan will be laid out to solve real problems," said He.
"For instance, how many hospitals will be built, how much money will be invested, how long will the projects take. Everything on the table is solid and doable. The fact is, China is increasing its investment in Africa, while most Western countries are going the other way," she added.
Xi also met with Brazilian President Dilma Rousseff later in the day.
Contact the writers through wujiao@chinadaily.com.cn