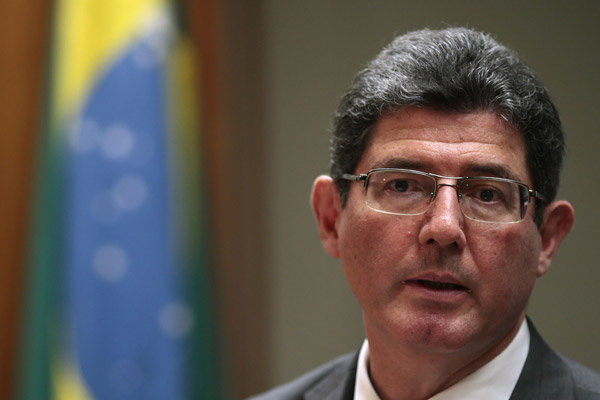 Brazil's Finance Minister Joaquim Levy reacts during a news conference in Brasilia February 27, 2015. [Photo/Agencies]
BRASILIA - Brazilian President Dilma Rousseff on Tuesday named her finance minister and Central Bank president to represent the country on the Board of Governors of the BRICS New Development Bank (NDB).
Finance Minister Joaquim Levy will serve as Brazil's governor on the board and Central Bank President Alexandre Tombini will serve as his alternate, according to a decree published in Tuesday's government Gazette.
The BRICS bloc of emerging economies -- Brazil, Russia, India, China and South Africa -- created the bank in July 2014.
The NDB will have an initial capital of $50 billion supplied equally by each of the founding members, which also have equal voting power.
The financial institution will be authorized to finance projects in the private and public sectors, and participate in public-private partnerships.
By Tuesday, all member countries had ratified the agreement to build the bank and deposited their share of the initial capital.
The bank will begin operating in January 2016. The priority projects to be financed are expected to be reviewed at the 7th BRICS Summit that will take place Wednesday and Thursday in the Russian city of Ufa.
The Brazilian government had earlier designated economist Paulo Nogueira Batista Junior, who is currently an IMF executive director representing Brazil and 10 other developing countries, to serve as NDB's vice-president.
"The bank represents a concrete contribution by the BRICS to the systemic challenges related to international development, especially with respect to better integration between emerging and developing economies," said Brazil's Finance Ministry.