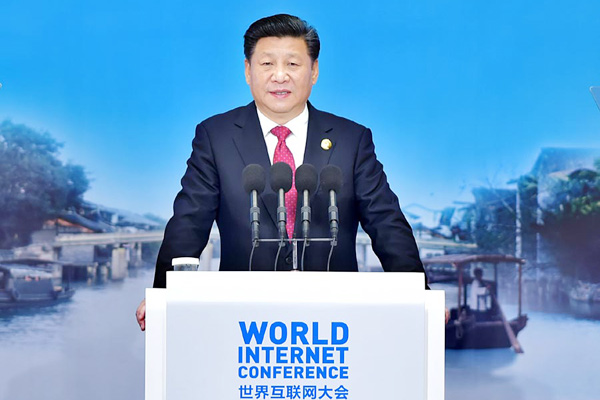 President Xi Jinping delivers a keynote speech at the opening ceremony of the Second World Internet Conference in Wuzhen Town, East China's Zhejiang province, Dec 16, 2015. [Photo/Xinhua]
President Xi Jinping said at the opening ceremony of the 2nd World Internet Conference, on Wednesday, Dec 16, that in the overall management of cyberspace there needs to be a proper balance in "freedom" and "order", and that "freedom is the end of order, and order the guarantee of freedom."
Xi continued by saying, "We should respect the rights of netizens in exchanging ideas and expressions, but should also build good cyberspace order that accords with the law to benefit and protect the rights of the netizens."
The WIC, which runs through Friday, has brought together more than 2,000 state leaders, government officials, business leaders, Internet titans, and experts from more than 120 countries. Its 10 forums allow for an exchange of views on everything from Internet culture and communications, to innovation and development, to digital economic cooperation, the Internet plus, and the digital Silk Road, to cyber security and cyberspace governance.
China had 668 million Internet users by July of 2015, the largest number of any country in the world, covering all of its cities and towns, and 93.5 percent of villages.