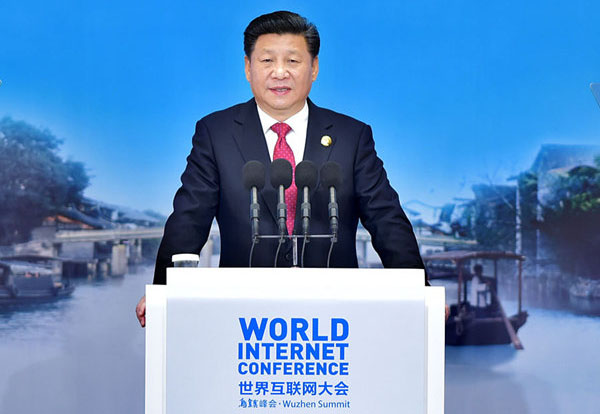 Chinese President Xi Jinping delivers a keynote speech at the opening ceremony of the Second World Internet Conference in Wuzhen Town, east China's Zhejiang Province, Dec. 16, 2015. [Photo/Xinhua]
President Xi Jinping said the international community should respect the "Internet sovereignty" of individual countries and build a "multilateral, democratic, and transparent" global Internet governance system.
"Based on the principle of mutual respect and mutual trust, the international community should increase dialogues and cooperation, reform global Internet governance, and make the cyberspace a peaceful, secure and open place," Xi said at the opening ceremony of the 2nd World Internet Conference, in Wuzhen, Zhejiang province on Wednesday, Dec 16.
Xi went on to say that the global Internet governance reform needs to be based on a principle of Internet sovereignty. "We should respect the rights of individual countries in choosing their own Internet development path, Internet governance, and Internet policies and take part in cyberspace governance on an equal basis and not push cyberspace hegemony or interfere in other countries' internal affairs or engage in or support cyberspace activities that jeopardize the national security of others."
Officials said China has been the victim of a large number of cyber attacks from Internet servers based in some developed countries, such as the United States. The Internet should not be a place to promote rivalry among different countries or a seed bed of crime, and the international community needs to work together to combat terrorism, drug trafficking and money laundering, Xi said.
Regarding the overall management of cyberspace, Xi said there needs to be a proper balance in "freedom" and "order", and that "freedom is the end of order and order the guarantee of freedom".
"We should respect the rights of netizens in exchanging ideas and expressions, but should also build good cyberspace order that accords with the law to benefit and protect the rights of the netizens."
The WIC, which runs through Friday, has brought together more than 2,000 people, including state leaders, government officials, business leaders, Internet titans, and experts from more than 120 countries and regions. Its 10 forums provide a place for the exchange of views on a wide range of topics such as Internet cultural communication, Internet innovation and development, digital economic cooperation, cyber security, Internet plus, cyberspace governance and the digital Silk Road.
Amid continued economic weakening, China has adopted an Internet Plus strategy to boost its economy through digital innovation. Xi said China will make full use of the Internet to increase its strength and will especially develop the big data industry and continue its Internet Plus strategy over the next five years.
China's economic indicators have shown a worrisome weakening trend this year, but, thanks to support policies, there were also signs of steady growth in November, with factory output and retail sales both registering faster year-on-year growth compared with the previous month.
The Internet business has contributed enormously to brisk consumption, which is a key area in the country's attempts to shift from economic growth based on investment and exports to one based on consumer spending and innovation.
China had 668 million Internet users by July 2015, the number of any country in the world, covering all cities and towns, and 93.5 percent of villages.