The number of volunteers for the Second World Internet Conference amounts to 994, twice that of last year. They are receiving training right now.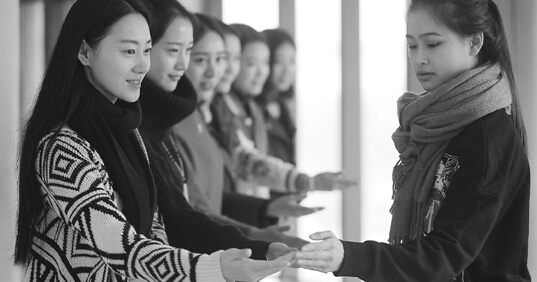 Volunteers for the Etiquette and Service Team, from Zhejiang Media College, receive etiquette training.[Photo by Qianjiang Evening] 
The training content is quite rich, including theoretical study of Internet development and training in volunteering service, etiquette, and press communication. Volunteers also learn to give an introduction to domestic social and economic conditions.
The selection of the volunteers began this May, and after two rounds of interviews, 994 people were selected from the 6,700 people showing interest.
Organizers said all the selected candidates are excellent, both in ability and appearance. Females on the etiquette team, for instance, are all over 168 cm.
Senior directors are setting higher requirements for the volunteers. "The training of volunteers this year is more professional and comprehensive, even covering first-aid training. Some volunteers have got Red Cross Lifeguard Certification after the training," said Shen Xiaoyan, team leader of the Tongxiang Volunteering Service Team.
The information equipment is also more intelligent than last year, Shen added. About 450 volunteers have been equipped with a device, of iphone 6 size, containing the conference information and schedule instructions.