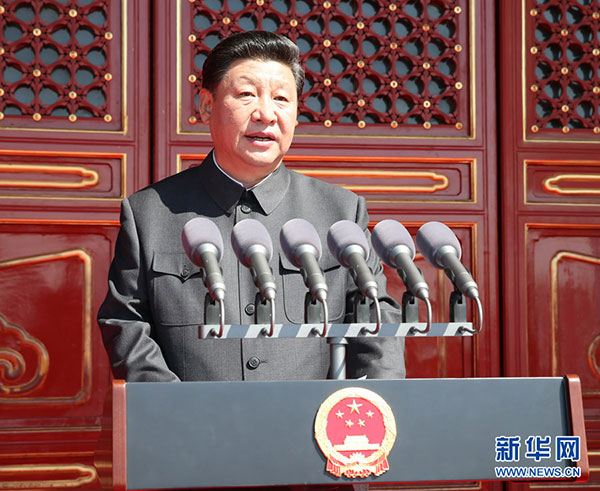 Chinese President Xi delievers a speech on Thursday. [Photo/Xinhua]
China will cut the number of its troops by 300,000 and China will never seek hegemony but protect the peace of the country and the world, President Xi Jinping said Thursday in his speech at the V-Day military parade as part of China's commemoration of the 70th anniversary of the end of World War II.
"It's a common practice for Chinese leaders to pledge disarmament after big parades ... China downsized its army by one million in 1985, after the 1984 parade," said Song Xiaojun, a military commentator.
The reduction will focus on units with outdated equipment and non-combat personnels and will be essentially completed by the end of 2017, Defense Ministry spokesman Yang Yujun said at a news conference after the parade.
Yang also said there will be no obvious reduction in defense budget after the troop cuts, since the military will need money to upgrade its weapons, increase salaries for its personnel and offer allowances to those made redundant.
When asked if the money saved from troop reduction be used in developing nuclear, cyberspace, or space power, Yang said China will stick to its defensive nuclear strategy and peaceful exploitation of the space. As to cyberattacks, Yang said China is the biggest victim and faces grim threats in the security of cyber infrastructure. "Our strategic intention in this aspect is transparent."
After former presidents Jiang Zemin and Hu Jintao took power, they also announced disarmament by 500,000 and 200,000.
Though the disarmament announcement is not a new practice, it's in line with Xi's pledge of never seeking hegemony, said Song.
Xi, also chairman of the Central Military Commission and general secretary of the Communist Party of China Central Committee, stressed China will remain committed to peaceful development and will never seek hegemony or expansion.
"China will remain committed to peaceful development. We Chinese love peace. No matter how much stronger it may become, China will never seek hegemony or expansion. It will never inflict its past suffering on any other nation," Xi said.
Xi called on people to commemorate the hard-won peace after years of bloody war that inflicted heavy losses on China and other countries.
In honoring the Chinese who perished and those who contributed to the victory in the deadly conflict with Japan, the parade is a tribute to history and a call for peace, Xi said.
The war inflicted suffering not only on the Chinese people, but also on Japanese people, Xi said.
President Xi Jinping paid high tribute to all the veterans, comrades, patriots and officers in China who took part in the War of Resistance and all the Chinese at home and abroad who contributed significantly to the victory of the War.
Full Text: Xi's speech at commemoration of 70th anniversary of war victory