One of the oldest surviving veterans of the communist-led guerrilla force that opposed Japanese troops during the dark days of occupation recalls her days fighting a hit-and-run campaign in the forests and mountains of Northeast China.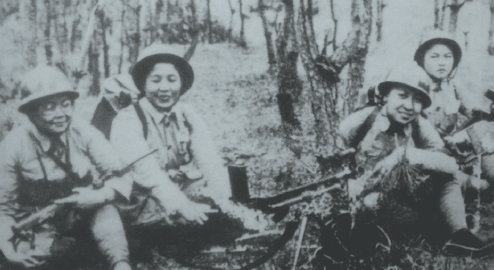 Female guerrillas pose for a photo during the Chinese People's War of Resistance against Japanese Aggression (1937-45). CHINA DAILY
As she rose slowly from her wheelchair to get a better view of the old black-and-white photos, Li Zaide, dressed in a green military uniform with a dozen badges across the chest, momentarily resembled the tough soldier she once was.
As she surveyed the photos of war-torn China at an exhibition in Beijing, the 98-year-old guerrilla veteran recalled the battles in the snow-covered forests, where she fought side by side with her late husband, her mother, who was executed by the Japanese, and the comrades she lost.
Li was born into a poor rural family in Japanese-occupied Korea in 1918. Two years later she was brought to China by her mother and grandmother and settled in a village in Heilongjiang province. The family struggled to make a living, but although things were bad, they quickly became much worse.
In 1931, the Japanese army invaded Northeast China and later established the Manchukuo puppet government.
In response to the invasion, the Chinese Communist Party formed a guerrilla force to harass the enemy, and in 1933, the Japanese began an offensive to track down guerrilla units across Heilongjiang.
In October of the same year, Li's mother-a member of the CPC, still an underground organization at the time, in Tangyuan county in Heilongjiang-was arrested along with 12 colleagues.
"After being tortured by the Japanese soldiers, my mother and her comrades, who refused to give away any information about the organization, were drowned by being thrown headfirst into wells," Li said.
Her mother's execution prompted Li to join a 40-strong guerrilla unit and later join the CPC's Youth League. "I want to live and avenge my mother," she told the leader of the guerrilla unit.
"It was then I really began to realize that China was my new home. I hated the nightmare that was happening here," she said.
She clearly remembers her first taste of combat, when her unit exchanged fire with a puppet government police squad in a forest. "It was chaotic. I couldn't figure out where the bullets were coming from," she said.