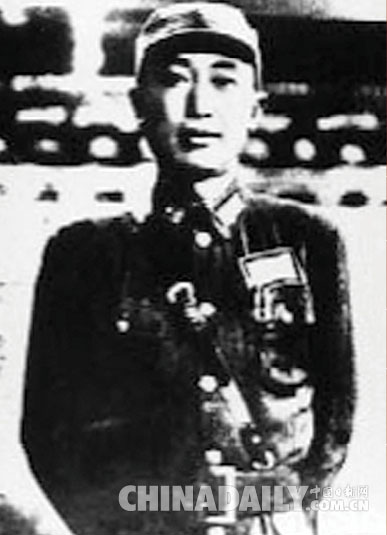 General Dai Anlan. [Photo exclusively provided to chinadaily.com.cn]
Dai Anlan, born on Nov 25, 1904, was a prominent Kuomintang (KMT) Lieutenant-General and commander of the renowned 200th Division, the only mechanized infantry division, of the National Revolutionary Army.
He took part in key battles during the War of Resistance against Japanese Aggression including the Defense of the Great Wall, the Battle of Taierzhuang and the Battle of Kunlun Pass and commanded KMT soldiers fighting against Japan's invasion, after graduating from China's first military school, the Whampoa Military Academy.
Dai was also an excellent model among the 300,000 men who served in the Chinese expeditionary forces against Japan's military advances on the southwestern China border and in northern Burma, now Myanmar, from the end of 1941 to 1942, under alliances with the United States and Britain.
General Dai, as combat commander, led the 200th Division and blocked the Japanese army for 10 days, killing more than 5,000 enemy soldiers and earning the first big victory in the Battle of Toungoo, one of the key events in the Battle of Yunnan-Burma Road and in World War II.
The Chinese expeditionary forces dealt a heavy blow to the Japanese army, and provided an inspiration to all Asian people in the anti-fascist war.
Dai died of mortal wounds on May 26, 1942, during the 200th division's retreat from Burma.
He was recognized even by his enemy and remembered and honored as a role model serviceman by the Allied forces.
He was awarded the Legion of Merit, a US military award given to soldiers with outstanding service, on Oct 29, 1942, by the then US government for his contribution in the war against Fascism, the first Chinese soldier to receive such an honor during WWII.
A state funeral was held for Dai on April 1, 1943 in Quanzhou, Guangxi Zhuang autonomous region where Chairman Mao Zedong inscribed an elegiac poem in memory of General Dai and other leaders from the CPC and KMT, including Zhu De, Peng Dehuai and Chiang Kai-shek, sent eulogies and elegiac couplets.
The photo is exclusively provided to chinadaily.com.cn by the Museum of the War of Chinese People's Resistance against Japanese Aggression and cannot be used without permission.