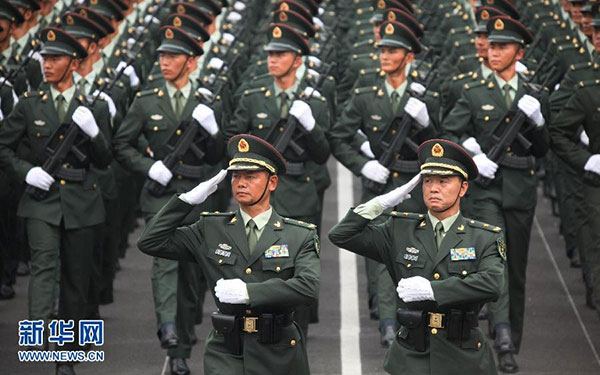 Major General Cheng Xiangwen (Left) and Major General Zhu Yunxuan (right) salute during a session with soldiers from their marching unit on July 22, 2015. They are preparing for the Sept 3 military parade to mark the 70th anniversary of victory in the War of Resistance Against Japanese Aggression. [Photo/mod.gov.cn]
People's Liberation Army Generals have shed more than five kg on average as they get into training for the Sept 3 military parade marking the 70th anniversary of the end of World War II.
More than 50 generals, with an average age of 53, will lead parade units involving 12,000 people. The oldest general is 58, more than 30 years older than other soldiers.
They have sought no privileges and trained as strictly as all ranks although they are behind younger recruits in terms of reflexes, agility and physical strength.
Lieutenant General Deng Zhiping, 52, said he had shed more than 7 kg to less than 80 kg since training began. "My waistline was trimmed down by 12 cm," said Deng.
Many generals have overcome injuries and illness in training but insist on practicing overtime, said Feng Kaichun, who is in charge of training them.
They seek extra time for training to perform to a high standard.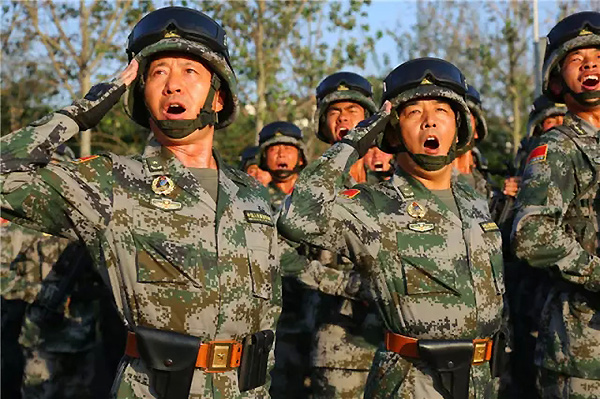 Two generals, Wang Xiubin and Zhou Xigen, lead parade units during a training for the Sept 3 military parade marking the 70th anniversary of the end of World War II. [Photo/81.cn]
Liu Weixing, the only officer and PhD born in the 1950s, has devoted his military career to scientific research over three decades.
He has never participated in any parade marching training. To catch up he practices until he goes to bed late at night.
"I will retire in two years. It is significant to me and my career to join the parade at this point," he said.
Zhang Haiqing, aged 56, straps 4 kg of weights on his legs during training to ensure the required pace.
For perfect standing posture, the generals place poker cards between their knees to ensure there's no visible gap and between their hands and legs to keep their arms locked to their body.
Their clothes are drenched in sweat after training.
To increase stamina, they practice marching more than 200 meters at a time, far more than the 96 meters their coach requires, and they practice several times a day.
"Generals are the first class soldiers," said Feng.