Yan Baohang was one of China's most effective wartime intelligence agents and a trusted adviser to the Nationalist government, despite being a covert Communist. Today, this secretive man is remembered for an intervention that helped to bring Japan's occupation of China to an end. Zhao Xu reports.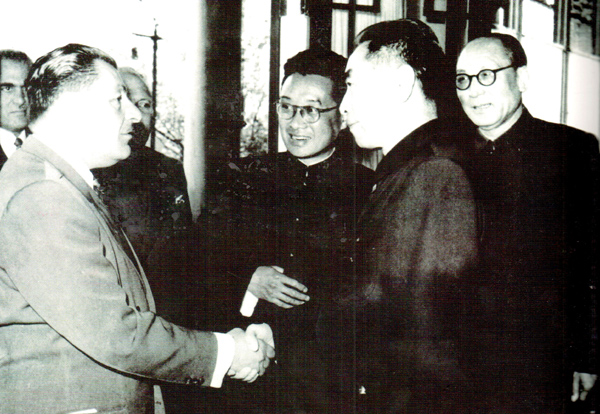 Yan Baohang (first from right) accompanies then premier Zhou Enlai at a meeting with foreign guests in 1955. Photo Provided to China Daily
As a child, Yan Mingguang regarded her father as a caring, uncomplicated man. "He would ride me to school on his bike and give me a goodbye kiss on the forehead when he left me at the dormitory. Once, I discovered a pair of nail scissors under my pillow. Dad had left them there because he wanted me to keep my fingernails short and clean," she said.
It was only when her father, Yan Baohang, died in 1968 that she discovered he had been a senior intelligence agent and had played a crucial role in alerting the Soviet Union to an impending invasion by the Third Reich in June 1941, just weeks before the Nazi troops were mobilized.
According to Guan Dingyi, secretary-general of the Yan Baohang Public Philanthropic Foundation in Shanghai, Yan acquired the information when he attended a banquet held by the Chinese Nationalist government to welcome a visiting Germany envoy.
"One got a deeper perspective on the intricate and ever-changing international relationships during the war, and understood what was really happening," Guan said.
"Turn the clock back to June 1941: Germany was flexing its military muscles and the United States had yet to become involved in the war. Chiang Kai-shek, the leader of China's Nationalists, was trying to maneuver through an increasingly complicated political landscape in the hope of making gains by forming the right alliances," he said.
According to Guan, Chiang had always been an admirer of the German military, and as headmaster of China's first military school, the Whampoa Military Academy, he purchased German-made weapons and invited several Germans to join the teaching staff.
By mid-1941, China was already four years into its war with Japan. Chiang saw the Germans as a potential mediating force, despite their having sided with the occupiers. "That was partly because Germany would want Japan to fight alongside her against the Russians," Guan said. "Gui Yongqing, China's military attache to Germany, was informed of the decision to attack the Soviet Union by his German hosts sometime in late May, and alerted the Nationalist government.
"Why would they attack? My guess is that Hitler was trying to simultaneously coax and coerce Chiang into cooperating with him. 'The Russians will soon be finished, so come and join us', is effectively what he was saying. Judging by Chiang's reaction, he was betting on the Germans," Guan said.
Yan was invited to the banquet because he was an adviser to the Nationalist government, but also a favorite of Chiang's wife, Soong May-ling. "My father said it was a very lively party and people were toasting as if celebrating a victory," Yan Mingguang, now 88, said.
"A Nationalist veteran approached my father and told him, quite casually, about the German plan. Deeply shocked, my father sought confirmation from a guest who was close to Chiang. The answer was affirmative."