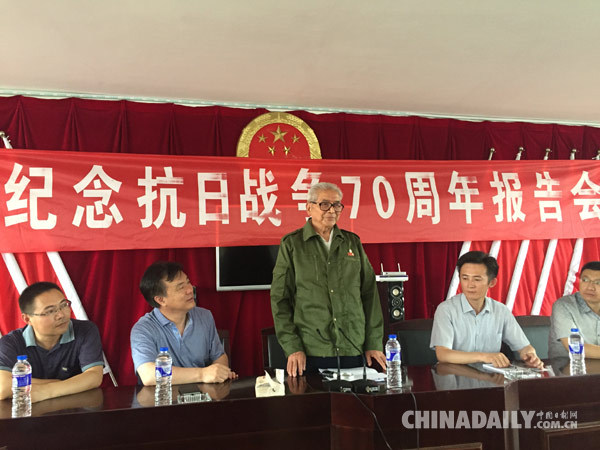 Xu Yingquan, center, shares his story about the War of Resistance against Japanese Aggression in Rugao, Jiangsu province, June 13, 2015. [Photo by Liu Mengyang/chinadaily.com.cn]
Again setting foot on the soil where he fought 70 years ago, wartime scenes came back to General Xu Yingquan, a 93-year-old veteran who took part in a series of battles during China's anti-fascist war.
16-year-old "company commander"
Influenced by his father who was a Red Army soldier, 16-year-old Xu joined the New Fourth Army (transformed from the Red Army's guerrillas in regions along the Yangtze River) in 1940 and soon became a member of the main force.
Twenty one days after Xu was appointed a platoon leader, the Huangqiao Campaign broke out.
During mobilization before battle, Huang Hualong, Xu's company commander, vowed to give his life to winning the fight and assigned Xu as his successor if he died. Huang was killed soon after the battle began and, facing such an urgent situation, Xu took charge and shouldered responsibility without hesitation, leading a successful fight. The calm and courage Xu showed in his first battle at such a young age won him acclaim among the army.