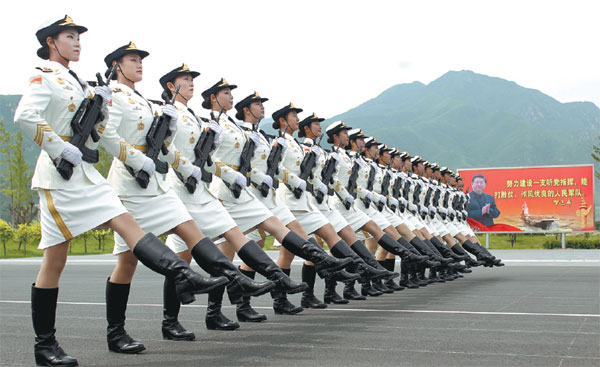 Female honor guards train at a camp in Beijing ahead of the military parade in the capital on Sept 3. Photo by Zou Hong / China Daily
BEIJING - China's female guards of honor will for the first time attend a military parade to commemorate the 70th anniversary of the end of World War II on Sept 3 in Beijing.
A total of 51 servicewomen from the Army, Navy and Air Force will march alongside with 156 male honor guards, 17 in each line, said a military source.
In average, they are 20 years old and 1.78 meters in height.
The servicewomen are the first females in the 63-year history of the People's Liberation Army (PLA) honor guards. They have been in active service since last May.
In the Sept 3 parade, the PLA will dispatch the largest ever honor guard formation.
For the most formal occasions, such as the visit of a foreign head of the state, there are normally 151 honor guards from the army, navy and air force at the welcome ceremony.
A 102-strong Chinese honor guard unit attended the V-Day parade in Moscow on May 9.
For the upcoming parade, the honor guards will aim at a higher standard and put up an even better performance, said Han Jie, leading officer of the honor guard formation.