Band and chorus
Through the whole parade, there will be instrumental and choral performances presented by the PLA Combined Band and the PLA Chorus, said Major General Li Zhensheng, deputy head of the PLA General Political Department's publicity office.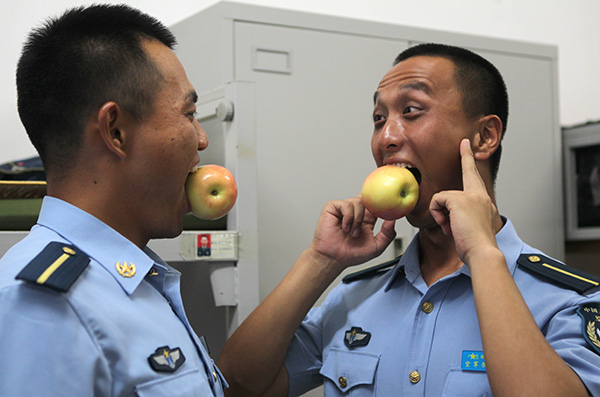 Sun Jingfeng, right, a student from the PLA Air Force Engineering University, is a singer in the chorus. [Photo by Zou Hong] 
Most of the music and songs performed by the two groups are classic works from the wartime era, he said.
"These works reflect the Chinese people's heroism and represent their aspirations for a strong nation and a mighty military," Li said.
The two groups were formed to serve the Sept 3 parade and will be disbanded after it. Members of the PLA Combined Band are from professional and amateur bands within the military. Singers of the PLA Chorus are male students at military academies.
Sun Jingfeng, a student from the PLA Air Force Engineering University and a singer in the chorus, said thousands of students at his university competed for a place because singing for a Tian'anmen Square parade is a great honor.
"We were so enthusiastic that the university had to hold three rounds of tests to select those with the best voice and best image," he said.
"So even though the choral training is tough, all of us feel privileged and are aware of our responsibility. We have all experienced many times that when we sang songs that praise our motherland, our tears would flow because we were overwhelmed by our pride in our great nation," Sun noted.
Contact the writer at zhaolei@chinadaily.com.cn