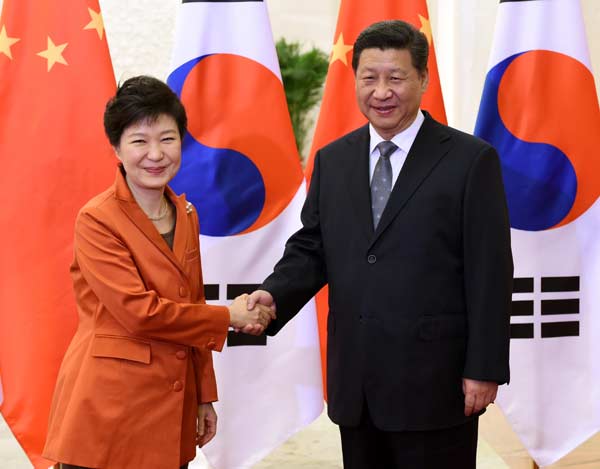 President Xi Jinping (right) meets with South Korean President Park Geun-hye in Beijing, Nov 10, 2014. [Photo/Xinhua] 
SEOUL - South Korean President Park Geun-hye will visit China next month to participate in the celebratory event to mark the 70th anniversary of the victory of the Chinese People's War of Resistance against Japanese Aggression, the presidential office Cheong Wa Dae said Thursday.
Ju Chul-ki, senior presidential secretary for foreign affairs, told a press briefing that Park will make a trip to China for three days from Sept 2 to attend the celebratory event set to be held in Beijing on Sept 3.
Park will attend the celebratory event in the morning on Sept 3, but it has yet to be decided on whether Park will take part in the Sept 3 military parade, Ju said.
Ju said that detailed schedules are still under discussion with Chinese counterparts, adding that the details would be explained in an appropriate time.
China has scheduled a series of events for the war victory anniversary, culminating in a military parade on Sept 3 in Beijing.
Park will move to Shanghai on Sept 3 to attend the ceremony on Sept 4 to reopen the office of the Provisional Government of the Republic of Korea, which was established in Shanghai in 1919.
The Korean independent fighters resisted against the Imperial Japan together with Chinese patriots during Japan's colonial era from 1910 to 1945.