The Chinese victory in a remote mountainous spot in southwestern China signaled the turning of the tide and the start of the endgame for the Japanese occupation of the country, as He Na reports from Tengchong, Yunnan province.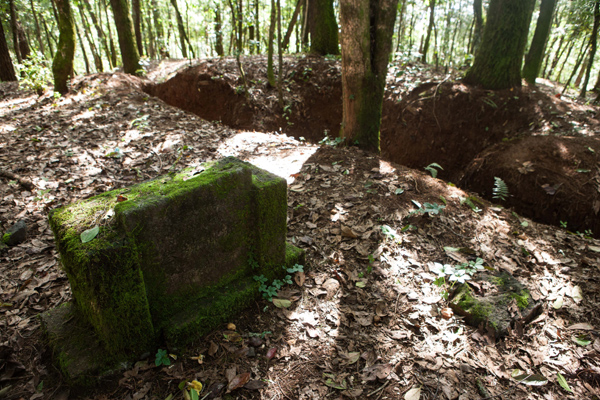 An old defensive position on Laifeng Mountain in Tengchong. [Photo/Xinhua]
From the summit of Mount Laifeng, or "Rising Phoenix Mountain", one can see the whole of Tengchong, a county in southwestern Yunnan province, which sits along China's remote border with Myanmar.
Today, the mountain spot, a well-known tourist resort and center for weekend activities such hiking, trail-running and camping, seems idyllic, but a little more than 70 years ago it was a living hell.
At the lower levels of the mountain, the only indication of the area's turbulent history is a small commemorative stone that bears the inscription: "The main Anti-Japanese Battlefield in Dianxi" (the Chinese abbreviation for western Yunnan).
At the higher levels, however, the densely wooded hillside is pock-marked with numerous trenches, bunkers, tunnels and shell craters-old scars that tell of the fierce battles that took place during the War of Resistance Against Japanese Aggression (1937-45).
According to Li Zhicai, a researcher at the Baoshan City Museum, the defenses were dug and built by the Japanese after they occupied Tengchong in May 1942, and the interlocking subterranean network was so complex it took two years to build.
"Nowadays the summit is covered by huge, dense trees, but during the war the Japanese cut down the trees on the summit to improve visibility and make the mountain a better defensive position," Li said.
"In July 1944, the China Expeditionary Force carried out a massive counterattack in Dianxi, launching two major offensives to capture the mountain. The victory cost the lives of 10,000 CEF soldiers," he said.