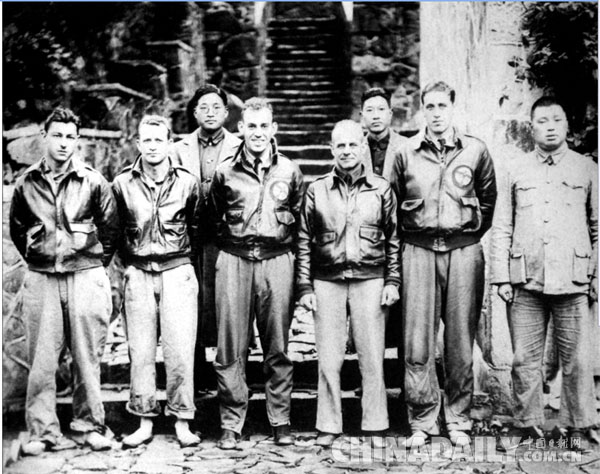 Some of the US pilots and Chinese soldiers and civilians took a picture together in China in 1942. [Photo exclusively provided to chinadaily.com.cn]
After a Tokyo air raid, a secret attack of 16 B-25 medium bombers on the Japanese homeland led by US Lieutenant Colonel James Harold Doolittle on April 18, 1942, most of the planes had to perform a forced landing in China's southeastern Zhejiang, Jiangxi, Fujian, Anhui provinces as they ran out of fuel before trying to reach a recovery airfield in China.
Chinese residents helped the American pilots selflessly after realizing they were friends, not enemies and left many moving stories worth telling.
The 75 US pilots who landed in China were helped by local Chinese residents who led them past Japanese lines. Among the pilots, 64 reached safety, 8 were captured by the Japanese army and 3 died in the forced landing.
The No. 3 plane landed in Suichang County in Zhejiang province. The pilot was seriously injured and could not walk by himself. Liu Fangqio, a local farmer found the pilot and carried him from 6 am to 7 pm to reach safety despite the ruggedness of the mountain road.
The pilot of the No. 7 plane was wounded so seriously that he could not be brought to safety and instead had to recover in Linhai, Zhejiang. He recalled that "the whole China" helped him at that time. "Good doctors from other cities came to Linhai and precious medicines were brought here too by secret ways. Villagers around gave me eggs and cow milk," he said. The pilot had an amputation in a local hospital and lived.
After the air raid, Japanese army in May carried out a frenzy of retaliation against the Chinese people who helped save American pilots, even using bacteriological weapons.
They attacked the villages in Zhejiang and Jiangxi out of the hatred of US pilots. Some villages were decimated just because of US pilots' stopovers. An American missionary who fled back to America in 1943 said a Chinese villager accepted gifts of thanks from American pilots. A few weeks later, the gifts became proof for his persecution and he was beheaded, as well as his family and friends.
The Japanese army killed 250,000 Chinese soldiers and civilians in a tide of revenge lasting more than three months.
The photo is exclusively provided to chinadaily.com.cn by Museum of the War of Chinese People's Resistance Against Japanese Aggression and cannot be used without permission.