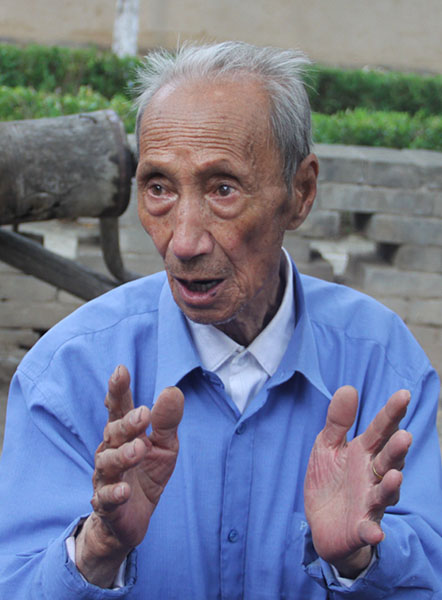 Xiao Jianghe, 87, former leader of a children's regiment that heplded resist Japanese invaders during the 1930s and '40s in Wuxiang, Shanxi province.
As a youngster 77 years ago, Xiao Jianghe led a group of children who patrolled major roads into his village to ensure the security of the well-known Eighth Route Army, a crucial force in the fight against the aggression of Japanese troops in North China.
He shared his experience with his grandson, Xiao Jian-ting, 28, who tells stories of the children's regiment to visitors at the army's old headquarters in Wuxiang county, Shanxi province.
The old headquarters receives thousands of visitors each year, and Xiao Jianting likes to tell his grandfather's story with great passion.
"My grandfather told me what he had experienced and his interactions with the army, so the stories can't be more vivid," Xiao Jianting said.
Wuxiang is a national base for patriotic education, since the county supported the Eighth Route Army for years, said Tian Yuehui, publicity director for the Wuxiang Eighth Route Army Museum.
"At that time, many women breast-fed soldiers' kids, and local children also made their contribution to fighting against Japanese troops," she said.
Xiao Jianghe, now 87, was a leader in the children's regiment. He first saw General Zhu De, one of the founding fathers of the People's Republic of China, when Zhu led 480 soldiers to the village of Zhuanbi in 1939.
Zhu, then the army's commander-in-chief, gave a brief speech to residents on the significance of fighting against the Japanese soldiers, and he told the story of how the Japanese had buried more than 10,000 Chinese in coal mines in Datong, a city known for coal production in northern Shanxi.
Xiao still remembers that Zhu said everyone should contribute to the resistance, including women and children. "Our school moved to another house from the old one, which was given to soldiers, and all 32 children aged 8 to 12 were recruited into the children's regiment," Xiao said. "I was the tallest and dared to voice my opinions and so was chosen to be the leader."
Then only 10, Xiao made plans for the children to pass information to the army and to stand guard at entrances to the village.
One day, a man in an army uniform tried to enter the village, but he didn't have a permit. Xiao stopped him and asked another child to alert the army's headquarters. The man was found to be a spy for the Japanese troops, he said.
"Anyone without a permit was not allowed to enter. The uniform couldn't prove the man was a member of the army," Xiao said.
Japanese soldiers committed atrocities against his fellow villagers, Xiao said. "I cannot forget that five Japanese soldiers burned three villagers in a kiln. I was camouflaged in bushes nearby. Otherwise, I would have been killed too," Xiao said.
In the three years that the army was based in the village, more than 40 people were killed by Japanese bombers. "At any dangerous time, Chinese soldiers would help villagers first," Xiao said.
After the Eighth Route Army left, Xiao became a village teacher and compiled army stories in his spare time. He said he has always wished that China and Japan could develop a friendship and keep the peace.
"The war did harm to both countries, China and Japan. Chinese are not afraid to start a war, but it's meaningless in a globalized world. We want peace," Xiao said.
Sun Ruisheng contributed to this story.
huyongqi@chinadaily.com.cn